Poetry Club speaks "Louder Than a Bomb"
After a long, tiring day at school, many students seek a way to escape their stress and a way to relax. Some take a nap, some go for a run, and others use originally crafted poems as their outlet.
Poetry Club, a club open to all grades, is comprised of students who enjoy poetry and writing their own pieces.
"Essentially, we write poems to be shared with either each other or at poetry events," said Kai Foster, senior and member of Poetry Club for two years.
The club writes about all different topics. With recent news of the Florida shooting, they have written a poem speaking about gun violence and the need for change, titled "Trigger Warning". Foster has shared it across her social media platforms, receiving recognition from Marjory Stoneman Douglas High School students and others inspired by their words.
Poetry Club has weekly meetings, but they have been meeting more frequently in order to rehearse for the largest youth poetry festival in the world, "Louder Than a Bomb", which is held at Columbia College in Chicago.
Along with participating in Louder Than a Bomb, which hosts more than 1,000 young poets, the club also participates in many other events and slams.
"We also do a couple of different poetry slams; we do one called 'Louder Than A Lawnmower', which is a super big slam, and then we do one called 'The Pumpkin Slam', and as many others as we can get to," said Ms. Robyn Corelitz, Poetry Club sponsor and English teacher.
Additionally, the Louder Than a Bomb quarter-finals took place on Wednesday, March 7, where the club headed to compete against other schools. By competing against other schools, members of the club are given the chance to meet many new faces outside of Central.
"My favorite part about being in Poetry Club is meeting all the other people in it," said Ayana Otokiti, junior. "You make friends that are outside of the school, and it's just a really fun environment to be in."
Poetry Club competes as a group many times during competitions.  
"We are a competitive team, and we frequently travel to the city and are interacting with all different students from all different schools," Ms. Corelitz said. "We have a unique take on what youth poetry culture is."
The club is also known to have a close-knit atmosphere that makes it easier to share original poems and pieces.
"[Poetry Club] is a safe space before anything where we encourage people to be comfortable with all aspects of their identity," Foster said. "It's also a space where it's OK to be vulnerable and share experiences that you wouldn't otherwise be comfortable sharing."
To learn more about Poetry Club, you can go to one of the weekly meetings held Thursdays after school in room 254.
Leave a Comment
About the Contributor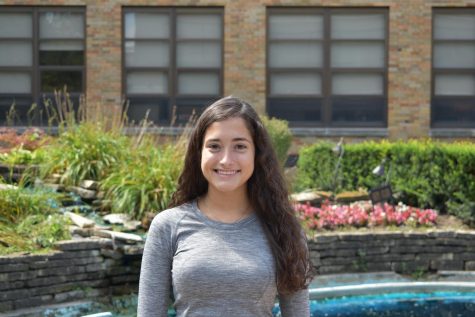 Michalea Halikias, Managing Editor
Michalea Halikias is a senior who can often be found shopping online, listening to music, or hanging out with her friends. She loves watching Master Chef,...