Earth Science Honors Symposium showcases semester projects
Students who walked by the library on Wednesday, April 18 saw something completely out of the ordinary. Posters filled the room, and students could be found presenting in every corner of the library for the 10th Annual Earth Science Honors Symposium.
The Earth Science Honors Symposium is an annual conference put on by the students of Mr. McCloud's and Mr. Canavan's Earth Science Honors classes. The students spent more than five weeks working on their chosen projects. Each year students are given a different guiding question; this year, the question related to methods used to study Earth's history, but students had very few limitations to topics they could choose.
Instructors gave students the option of presenting posters, digital media projects, or oral presentations similar to a Ted Talk. The teachers also chose three to four students from each class to be section heads, overseeing a small group of their peers.
"I was a section head, which means I was organizing and helping the four students within my group," said Katie Helliwell, senior. "It was stressful to oversee all the projects and make sure everything was flowing smoothly, but it was also so great to see the amazing results of everyone's hard work."
Presenters gave poster projects to fellow science classes on Tuesday, April 17, and the symposium itself was the following day. Each period, leaders assigned new speakers to the three stages of the library, and students spoke or showed their videos and answered questions following the presentation.
"It was nerve-wracking having so many people look at my video and having to answer questions after the video was over," said Maggie Kemp, senior, who made a digital media project. "I was happy to see how all my research and filming came together at the end of the whole process."
Project topics ranged from super volcanoes to how the moon formed to how the sea level has changed over time. Leading up to the symposium, students each had three checkpoints, where they met with their section head, teacher, and peers that were doing similar project types as them.
"At each checkpoint I would bring more research and information that I wanted to put on my poster," said Jenna Collignon, sophomore, who made a poster. "Then the other students in the group and Mr. McCloud gave me advice on how I could make my poster better."
Overall, the Earth Science Honors classes saw the symposium as a major success.
"Everyone worked really hard on these projects so to see how well they all turned out is very rewarding," Helliwell said. "I know we're all very proud of each other."
Leave a Comment
About the Contributors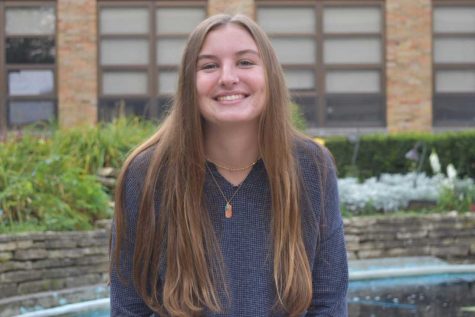 Samantha Moriarty, Writer
Samantha Moriarty is a junior who can most likely be found on the soccer field or on the couch. When she isn't waking up extremely early to fight for...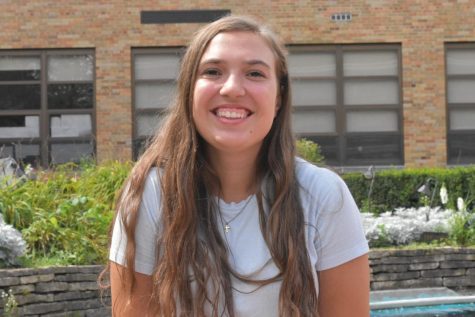 Michaela Malec, Photographer
Michaela Malec is a senior who can be found watching Hallmark movies or binging almost every show on Netflix. If Michaela is not on her couch watching...