Juniors begin to plan college essays
From taking standardized tests to beginning their college search, students are faced with many tasks their junior year of high school in order to get accepted into college. Of these tasks, one that is heavily significant is the college essay that all students must complete.
The Common Application, the standard admission application used by more than 700 colleges, provides seven essay prompts for students to choose from. These essays are meant to show colleges who the students are, apart from their grades and transcripts.
"Almost always, [the purpose of a college essay] is to tell the college something more about you, the applicant," said Ms. Donna Wheeler, guidance counselor. "The essay is a chance to add to and enhance your application. The college has the transcript, the test scores and the other facts and information shared on the application. The essay is the chance to show the college the 'what else'—what else do you want them to know about you? There is no right answer to a college essay prompt."
Students are advised against writing about topics that colleges can learn about them through their transcripts and are instead encouraged to write about something significant yet somewhat obscure. For these reasons, it can often be hard for students to brainstorm ideas.
"I'm in the 'planning stage' of my college essay so far, and it has been pretty hard trying to figure out a topic," said Jamison Fowler, junior. "I'm trying to think of something that is not stereotypical or cliche but still gets my point across."
Since 2014, the maximum length for a Common Application college essay is 650 words. Prior to 2014, the limit was 500 words. Some colleges include an additional "supplement" essay, which usually asks why the student wants to go to that college. Supplement essays often have a word limit of anywhere from 50 to 250 words.
Although college essays are a relatively shorter assignment when compared to the lengthier, thousand word essays that students write during junior year, most junior students have already started writing the Common Application essay in their English classes.
"All junior English teachers are having their students work on brainstorming topics right now," said Mrs. Stephanie Hiffman, English teacher. "The classes are getting the Common App prompts and they are looking over possible problems that they might run into with certain topics. Then, students are writing their essays and are going to get feedback on them."
Once students finish their essays in class, many teachers will have them edit their classmates' work. One activity that some English teachers do is have a close friend edit their essay and see if it captures the personality of their friend. Then, an acquaintance will read the essay and see what they learned about that person. This activity allows the author of the essay to make necessary adjustments to make sure their essay encompasses themselves accurately.
Although it is not required, it is strongly encouraged for one to start the college essay at the end of junior year as opposed to saving it all for the fall of senior year, right before applying to colleges.
"I think it's a really good idea for students to keep up with that [college essay writing] momentum when the school year gets out and try to write at least a few other essays over the summer while they are already in that mode," Mrs. Hiffman said. "The start of the school year is always the busiest time of the year in general, and I think that it is a mistake for students to wait until the fall to write their college essays."
For examples of college essays and a guide to writing them, visit this powerpoint made by Hinsdale Central guidance counselors.
Leave a Comment
About the Contributor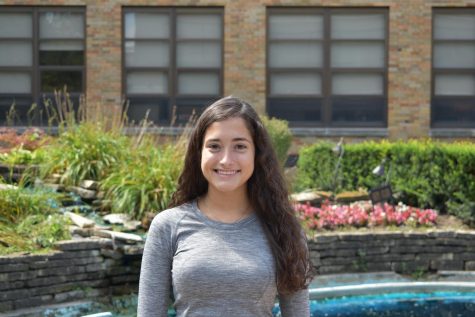 Michalea Halikias, Managing Editor
Michalea Halikias is a senior who can often be found shopping online, listening to music, or hanging out with her friends. She loves watching Master Chef,...