LEAP club travels to South Africa
This summer, the students and staff members from LEAP (Langa Education Assistance Program) club took a trip to South Africa to visit and engage with students and teachers from Africa at LEAP Math and Science Schools in Cape Town.
LEAP schools are in parts of South Africa where youth are disadvantaged by poverty and unable to get a full education.
LEAP club's mission is to raise money for the LEAP schools. The club aims to provide moral and financial support to further the education in poverty-stricken areas of South Africa. In the last three years, LEAP club has gone to South Africa three times and given more than $40,000 to the LEAP schools.
During its trip to South Africa this summer, the LEAP club presented the founder of LEAP, John Gilmour, with a check for $10,000. The club raised this amount through continuous fundraisers throughout the year.
"The African students' enthusiasm and gratefulness regarding their education is one I think all of us could learn from here," said Gabrielle Sullivan, a junior in LEAP club. "I am even more motivated now than ever to fundraise as much as I can for these kids because they deserve it."
Two separate groups went to South Africa: one consisting of students and their parents, and the other of teachers from both Hinsdale Central and Hinsdale South.
The difference between these two groups was that the students engaged with the students in three different LEAP schools and sat through classes in the schools, while the teachers attended and presented at an educational conference in Johannesburg and worked with the teachers there to collaborate on their lessons.
The teachers who went abroad included English teacher Mrs. Heather Fehrman. Fehrman said that the teachers on the trip attended to exchange ideas about lesson plans. For example, the teachers exchanged different ways to deliver content and communicate with students.
"A lot of the issues that teachers have here are the same as the issues that teachers have in Africa," Fehrman said. "The bottom line is that students are students and teachers are teachers."
Another teacher on the trip, Mr. Mathew Doll, math teacher, presented with Fehrman at the conference. One of Doll's most memorable moments from the trip was his experience in teaching a math class to the South African students.
"They were so happy with what they had, so ready to learn, and so excited to meet an American and hear about what things were like in America," Doll said.
Doll and Fehrman hope that LEAP club grows and more students and teachers at Central have the chance to be more involved. They said they hope that in the future, Central students can find ways to communicate with students in LEAP schools, and more students and staff members can go on trips to visit LEAP schools.
Teachers from LEAP schools arrived in Chicago on Friday, Sept. 7, to shadow teachers at Central and further the exchange of ideas between teachers.
If you're interested in helping LEAP Schools, attend LEAP club's next meeting on Wednesday, Sept. 12 at 7:30 a.m. in the teacher cafeteria.
Leave a Comment
About the Contributor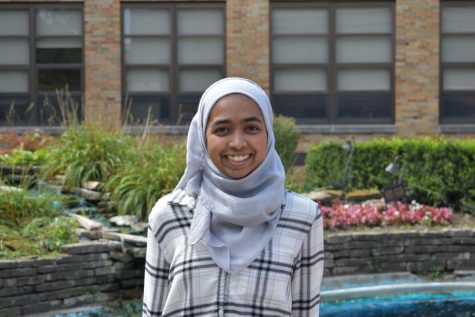 Saba Ali, Editor-in-Chief
Saba, senior, is a chocolate vacuum (basically eating any chocolate in sight) and a nap queen, who can take a nap virtually anywhere. She loves Ben &...