Students and staff share favorite fall activities
With the orange, yellow, and red leaves falling onto the ground and a newfound chill in the air, Fall is in full force. Now that summer is over, many students and staff members are focused on being optimistic about the arrival of the new season and sharing their favorite activities to do during this time of year.
Considering how the weather in Chicago has a tendency to get cold very fast, many people like to spend time outside while the weather is still above freezing.
"I love hiking in the Indiana Dunes and walking on the beach in Indiana," said Ms. Wendy Orloff, math teacher. "I am a dog fanatic, so I love being outside with my dog during Fall."
Ms. Orloff is not the only one who enjoys spending time in nature with her dog around this time. Ryan Jones, senior, shares her love for the same activity.
"I love to walk my dog around Fullersburg Woods in the Fall because all the trees are changing colors and it looks so pretty," Jones said.
Along with this, many people like to warm up during this cold weather by baking treats and desserts.
"My mom always makes a Greek version of pumpkin pie called kalokithopita," said Francesca Rimbos, freshman. "It's a tradition that my family has in the Fall."
To check out a website full of other fall recipes, including pumpkin cheesecake, apple pie, and snickerdoodle cookies, click here.
Additionally, many people like to visit pumpkin patches around this time of year, such as Bengston's Pumpkin Farm, Puckerville Farms, Johansen Farms, and Sonny Acres Farms.
"I like to go to the Odyssey Fun Farm during fall," Rimbos said. "They have this really fun thing called 'Zombie Paintball Hayride.'"
A reason that many look forward to Fall is to celebrate Halloween. Carving pumpkins is a common activity during the season.
"My family friends and I carve pumpkins every year around Halloween. It's something that we've always made a priority during Fall," Jones said. "I also love watching Halloween movies like Halloweentown or Hocus Pocus."
In addition to getting ideas for Fall activities, check out our story on fall essentials and our story on Halloween costume ideas.
Leave a Comment
About the Contributor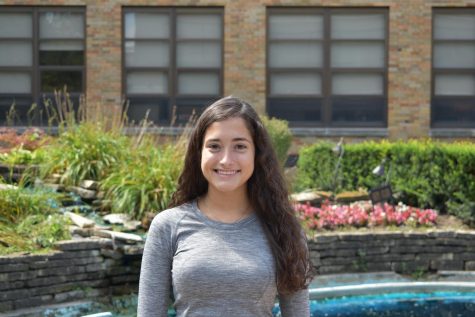 Michalea Halikias, Managing Editor
Michalea Halikias is a senior who can often be found shopping online, listening to music, or hanging out with her friends. She loves watching Master Chef,...