Strong minds bring change
What started as a panel on teen depression presented in health classes has now become a new club called Strong Minds Bring Change. Relaying information to sophomores about teen depression inspired a group of students to do more in regards to mental health awareness and betterment. The club is committed to improving, and educating about mental health in the community and reducing the stigma surrounding related diseases.
Students have been leading this panel for five years now and it is centered around the curriculum for Erika's Lighthouse, a foundation started to provide hope for adolescent depression. However, this year's core group of students for the panel, consistent of seniors, put together a proposal to create a club that would expand this initiative.
"It was definitely a lot of work getting together all the papers and proposals for starting this club," said Ella Baderman, senior and club president. "However, it got approved and I am really excited to see how this club grows and prospers."
One of the difficulties that the students encountered when creating the club was naming it. Their original choice for the name was Erika's Lighthouse because the organization was the inspiration for the club yet, due to copyright, they decided on 'Strong Minds Bring Change' in order to highlight the club's most important goals.
The club held their first interest meeting on Wednesday, Nov. 7 and there are currently 20 students interested and involved in the club. The board hopes that the numbers will grow as word gets out about it through the events they plan.
Their first event commemorated National Random Acts of Kindness Day, which took place on Tuesday, Nov. 13. During this event, named 'Quarters for Kindness', the club members sold kindness grams for 25 cents each. Students were able to write kind notes to teachers, friends, or other members of the administration, and they were delivered to the recipient with candy. The club sold 230 kindness grams, which both raised money and brought awareness to the club.
Strong Minds Bring Change is devoted to continuing projects like these to improve the mental health of all of those in the building. Other projects that they are hoping to organize include passing donuts out to students during finals week and planning yoga sessions. With these projects, the members hope to promote a stress-free environment as it is imperative to a healthy mind.
"A lot of times a stressful event can trigger overwhelming emotions and lead to anxiety or short-term depression for anyone," Baderman said. "We are hoping that the activities we plan will relieve some of that stress and its side effects, but we also hope that with these activities we can spread awareness of mental illnesses in general."
The club is open for anyone to join so it is not exclusive to people who suffer from mental illness. They welcome all who wish to promote breaking the stigma or are interested in bettering their mental health. Another goal of the club is to educate people on how to help others battling mental illnesses.
"I think what this group of seniors is doing is amazing," said Mrs. Teri Marshall, club sponsor and guidance counselor. "Now we have more interest and I am sure it will continue to grow with the great ideas they have and their eagerness in general."
Strong Minds Bring Change takes elements from many other clubs, such as Breaking Down the Walls and Happy Club, yet this club is more focused on mental health awareness.
Breaking Down the Walls performed skits at CHMS & Butler Jr HS. They discussed strategies for stopping bullying on social media, avoiding negative peer pressure, and creating inclusive spaces for students of diverse races, ethnicity and sexual orientations pic.twitter.com/3ejR5WQGgi

— HCActivities (@HCHSActivities) November 14, 2018
"I want high school students to realize how important mental health is and how they're not alone in dealing with it," said Judy Zakieh, senior and club vice president. "In the future, I hope we can continue presenting to underclassmen about mental illnesses through Erika's Lighthouse and educating them about these things that they may or have faced."
The next meeting is on Wednesday, Nov. 28 at 7:40 a.m. in room 124, and is for students who are interested in taking part in the Erika's Lighthouse presentation given in health classes.
Leave a Comment
About the Contributor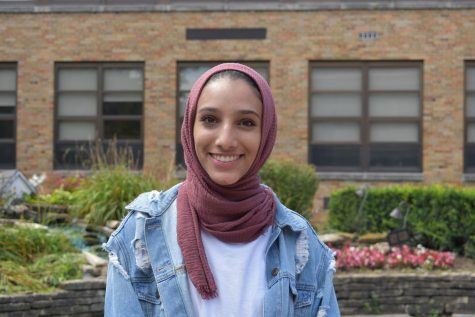 Hajera Naveed, Section Editor
Hajera Naveed is a Senior Writer and Section Editor for Devils' Advocate. Her hobbies include writing, volunteering, painting, and running. When she isn't...