Parkland survivor speaks about gun control
With the popular debate of gun-control, a large audience gathered in the library and after school on Friday, March 8, and anticipated the arrival of Kyle Kashuv, a survivor of the shooting at Marjory Stoneman Douglas High School in Parkland, Fla. and a pro-gun advocate. Heads turned as he walked in and an air of silence fell over the crowded library.
The Student Conservative Organization organized this event. In the fall, , sophomore Mikail Essa founded the club, which now has around 60 members. Since then, they have hosted political speakers such as Bruce Rauner.
"I attended a Conservative Leadership Conference in West Palm Beach where I met many people well-connected with [Rauner's] Organization and was able to make it happen," Essa said. "I met [Kyle Kashuv] over winter break at this conference and told him I'd love to host him at an event for our club, and then we took all the steps necessary to book him."
At around 3:45 p.m., Kyle Kashuv arrived. His main argument advocates for more guns in school, in the hands of trained teachers. He also detailed his experience of being a school shooting survivor.
"It was fourth period, all of the sudden it was pure chaos, and just not knowing what was going to happen to us at all," Kashuv said, describing the day a gunman opened fire on his school, Marjory Stoneman Douglas High School, in 2018. "I was ambivalent towards the gun debate before [the shooting], but afterward, I said, 'what can I do in my full power to make sure that this never happens again?'"
Kashuv went on to describe his "utopian and pragmatic approaches," as he calls them, towards gun safety and preventing school shootings. In his ideal world, there would be guns in every school with trained teachers and staff members ready for any situation. Pragmatically, he said he believes people must hold the government accountable, increase security, and practice active shooter drills in all schools.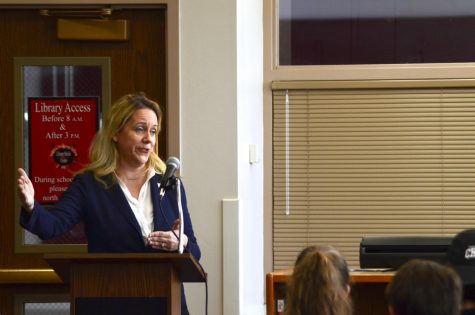 "I will not leave my self-defense and my safety to a government who has already failed me," Kashuv said.
Kashuv also met with President Donald Trump on March 9, 2018, to discuss passing an act to end school shootings. This bill was passed on March 15, 2018, and is called the "STOP School Violence Act."
The act permits grants to fund improvements to school's security systems, create anonymous reporting systems for violent threats, and develop training to prevent violence.
Both pro-gun and anti-gun students came to hear what a student their age has to say about this controversy, despite their conflicting beliefs.
"I honestly went there knowing that I wanted more gun control, but not knowing what that entailed," said Maiwen Amegadjie, junior. "His speech and Q&A session really opened my eyes, however, it's still important for me to do my own research to better develop my opinion."
After the one hour session, Kyle Kashuv left the Central students with a final message.
"This can actually happen at your school, don't be detached from reality. Do everything in your power to prevent it," Kashuv said.
The Student Conservative Organization plans to host another event Friday, March 15 featuring a discussion panel with those who are "Vote Yes" as well as "Vote No" for the referendum. It will be held in the auditorium at 3:15 p.m.
Leave a Comment