How to deal with stress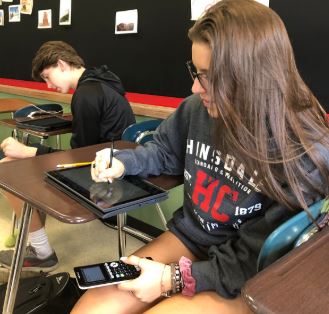 As students approach the halfway point of the semester, they may notice posters around campus offering advice on how to cope with stress at school. Plastered across the bathrooms, these posters include tips on how to alleviate stress in their lives.
The posters describe coping skills to distract and take breaks from the inevitable worries of school. They provide help and the resources the school offers for people in search of it.
While teachers give homework that can prompt stress, they also say they understand the pressure and reward students and offer ways to help them cope.
"I definitely think some teachers are really good about stress especially homework assignments if they know you have a really busy week or something. You can talk to them and they can give you extended time to do homework," said Gianna Dugan, junior.
The use of staff and resources the school provides is abundant throughout the halls and classrooms. The school also assists by advertising adult resources, that push students to use those beneficial coping skills and resources if you just ask and reach out. Teachers give good words to students that try to help motivate students.
"If you're trying your best then that's all that you can do, make sure to manage your time and not procrastinate, and take those breaks," said Mrs. Kelly Watson, a health teacher and the assistant director of athletics.
Student's stress is inevitable, but teachers continue to "spread awareness and tactics to inspire and assist students," according to Watson.
Some examples of her future implications are to continue to push and spread the resources provided onto learners so that students can actually benefit from their help, along with the posters hung in the bathroom sharing tactics and lessons.
The social workers', along with the rest of the staff, job is to provide for the student and devote some of their time to assist stressed learners with whatever crosses their path, if students take the time to use them.
If you are feeling stressed, make sure to seek out the social workers, who are located on the first floor near the nurse's office.
Leave a Comment