From an after-school club to an IHSA sport
Many might not be familiar with the variety of clubs that take place either before or after school. One of the newest members of the clubs here at Central is the E-sports club. In the club students improve their abilities at electronic gaming.
Electronic gaming is well known around the world, allowing more than 100 million people internationally to be able to watch it. That's more viewers than the NFL and NBA viewers. E-sports went from being played professionally to being played by college students, and eventually to high school students.
"One of my Oswego friends invited me to play [electronic] games and suggested that I start an E-sports club at [Central], I later discovered that a gaming club was in existence and joined it," said Anand Venkatraman, senior. "[E-sports club consists] of around seven tight friends right now playing almost every week."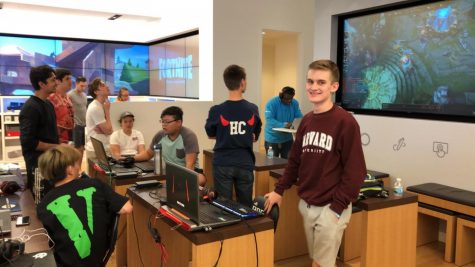 The club participates in weekly Microsoft tournaments, the IHSEA season for spring, and many invitationals in the winter such as the Oswego Winter Invitational. The club plans on expanding this operation as e-sports will eventually be an IHSA sport.
"We know a lot of people play this game, and it's rapidly growing," said Dexter Rush, junior. "We are already entering into a high school league for the spring season."
There are a few juniors from this year that will be playing next year, and the seniors will go onto college and say they will hopefully get scholarship money for it as well.
"I hope to make this club legitimate and help those who want to play video games competitively," said Felix Xi, senior. "I do plan on continuing to play competitive league in college and I hope to make this an actual sport."
The club plans on bringing more attention to this sport by having tryouts in the next couple of years and a more publicized school team. Andrew Daniak, technology specialist, sponsors and coaches the team.
Leave a Comment