Social Chair balances social and athletic duties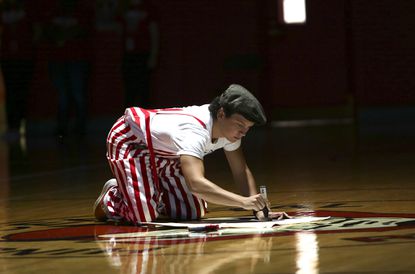 Ranging from adroit chess players to built, athletic football players, hundreds to thousands of students flood the Hinsdale Central hallways each day with some sort of special talent or ability at hand. Among all of the gifted students at the highly acknowledged high school, Alex Ovan, senior, is not only an active student at the school, but is also always engaged in activities outside the high school campus.
Every day, Ovan dedicates time to his position as the head of the social chair and other activities; nevertheless, this doesn't hamper the senior from spending countless hours on the soccer field.
Apart from soccer, Ovan has constantly been up and on his toes in school since freshman year. He has always looked up to the Social Chairs, surveying them for a long period of time. Knowing the expectations of the job, Ovan has established some of his goals for his work as a social chair.
"I feel like people always remember the social chairs long after they leave school, so I just want to leave my own legacy at Hinsdale Central," Ovan said.
Ovan has been involved in Student Council and other service projects dating back to middle school. At Gower Middle, he was a member of Student Council for all four years and was the vice-president in eighth grade.
Even with the social chair and Student Council as Ovan's current priorities, he also spends his time with the executive board, JKB (now Red Devil Leaders), Sports Club, the Ping Pong Team, National Honors Society and Peer Leadership.
"Honestly, I do not believe that I deserve all of the positions that I have in school, I think that I earned myself my positions, most notably Social Chair, just by coming to school every day with a good attitude and by being inclusive to all of my peers," Ovan said. "I am a pretty dedicated and hard working person in everything that I do. And although there are people that are more intelligent than me, I try my best to compensate for my hard work."
From his work in school to his contributions beyond school, Ovan is nearly as active on the soccer field. The student-athlete has been playing soccer ever since the age of five. In his eyes, he has reshaped himself as a soccer player over the years.
It used to be just another activity he was involved in, but it has evolved into something that he takes seriously.
Now playing for the Oak Brook Soccer club as a utility offensive player, Ovan said he believes that his leadership techniques in his extracurriculars during school translate to how he plays. He is never too worried about how he plays as an individual, but rather to how well his team performs as a whole. The coach of his team, Chris Karabatsis, said he enjoys coaching Ovan due to his ability to stand out over all 300 athletes he coaches.
"Besides being a good soccer player, Alex definitely stands out because of his maturity, willingness to learn, ability to focus and take direction and his drive to better himself at every opportunity… Alex is well respected by his teammates for being so supportive, encouraging and upbeat all the time," Karabatsis said.
Although it is difficult for him to manage his time, Ovan is able to balance his time with both extracurriculars and soccer week in and week out. The senior took a break from high school soccer in the fall and turned his attention to social chair.
Now, with winter break approaching, Ovan centers his focus to club soccer, with his next game on Sunday, Jan. 5.
Leave a Comment