Senior embodies her love for dance while skating competitively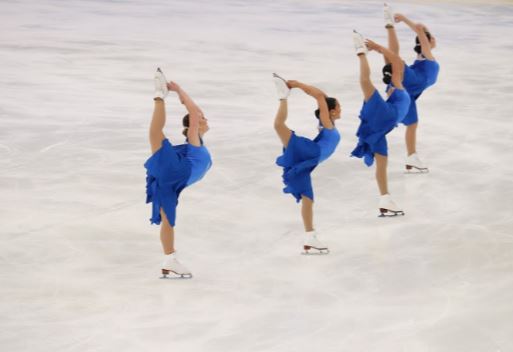 In 2010 after moving from Minnesota to the busy life in the Chicago area, Anna Becker, senior, started to question her current activities. Gymnastics and soccer didn't meet her standards anymore, as they are the typical sports every mom wants their kids enrolled in.
After figure skating at a friends birthday party, Becker had her mind set on joining the team and thought it would be fun. The head coach spotted Becker and proceeded to give her a spot on the synchronized skating team. Becker is currently on the Dazzlers Junior Synchronized team and regularly competes with her team.
After stepping on the ice at age nine, she immediately fell in love with the sport of figure skating. Dancing on the ice along with her teammates for nine years has made her a force to be reckoned with. Long hard hours on the ice are spent preparing for competitions, working on routines and perfecting challenging skills. Skating has been dominant figure in her childhood as she still continues to compete.
Becker has been competing for years with her team of girls on the ice. Dozens of hours are spent on the ice but also outside the rink in yoga studios, ballet classes and building their strength for every aspect of their performance. The long day starts with a team warm up where the girls complete an aerobic-like dance to warm up their muscles. It follows with a reflection given by the coach off ice, to spot strengths and or weaknesses.
After the critiques and consultation, the sleek white skates are strapped on and thrown out on the ice for practice. The
time spent in the arena depends on the day, some being two hours or can be up to four. Becker has her work cut out for her as she muscles her way to five to six practices per week.
One prominent memory lies in a competition for Nationals in 2016. The make it or break it day rolled around with nothing but focus on the back of her mind.
"For my division, only the top 4 out of 22 teams in the Midwest would qualify for Nationals," Becker said.
The performances were a tight call after all 22 teams fought for the four spots on the Nationals list. Nervousness awaited as one competing team snatched the fourth spot from Becker's team. The girls nervously waited as the scores counted up. Becker's team was bumped down to fifth place. Faces fell and hope faded away at their chance to win. As the replay reels took their course, the girls waited for the final announcement.
The judges announced that the team that beat Becker had made a mistake in their dance. Becker's team rode up to fourth place winning their spot. Drama churned as the rivals mourned their loss. Unimaginable relief laid across the girls as they remained on top, leaving this memory unforgettable.
Skaters have the constant pressure of perfecting each move. In Becker's case, nailing each move while staying in sync with her teammates is even more challenging. The pressure is a struggle for Becker as sometimes school is a hard balance.
With the multiple hours taken away from schoolwork, skating sometimes becomes a burden for Becker. She, however, continues to motivate herself to succeed in the sport she loves with the competing outside challenges in her life.
Growing up, skaters across the world have influenced young athletes to mirror their successes. Thousands of figure skaters hope to make it big in the industry. Tonya Harding became the first woman to land a triple axel during a 1991 U.S. Figure Skating Championships in Minneapolis, Minnesota, Dorothy Hamil became an Olympic and World champion in 1976 and Becker's idol, Nathan Chen. While balancing his education at Yale University, Chen has achieved two World Championship titles and three Grand Prix wins in a row. The world renowned skater defines odds by balancing two very difficult things. Chen's ambition keeps Becker on her feet.
"If I choose to skate in the near future, I want to be like him, hard working and efficient with my time spent," Becker said.
The team travels across the country for days to compete. She just recently returned from a meeting in Ann Arbor, Michigan and has another competition scheduled in January.
Becker's love for synchronized skating will forever be in her heart, but with the stress of school and college, it isn't looking too good. Nevertheless, she hopes to continue skating in the near future with her friends of years.
Leave a Comment