Sophomore pursues musical talents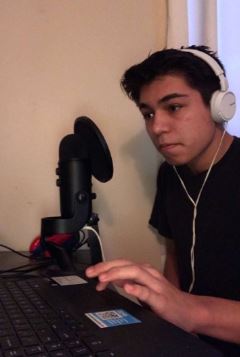 Sophomore Gustavo Cardone nervously types 'Soundcloud' into the search engine, excitable energy rushing through him. As he clicks enters and is taken to his song, he watches as the number of streams goes higher and higher, excited comments flood his inbox, sending jolts of happiness and energy throughout his body.
Cardone also known by the alias 'Yung Gus' is a popular artist on several musical platforms. Cardone has always had the dream to be a musician, he began to upload his music on the internet to share his talent with the world in middle school.
Drawing inspiration from his favorite musical artist, Tyler the Creator, who with his unique style influenced Cardone's musical path and Cardone's own past experiences in relationships and life, he began to write, record, and upload his music onto the musical platform Soundcloud.
"I went out and bought a computer and just started making music," Cardone said.
Although coming from humble, musical beginnings, his rise is anything but, with several hundred thousand streams on the platforms Soundcloud and Spotify. Cardone has been working for years, developing his sound and aesthetic to grow his musical presence while having fun at the same time.
Cardone recalled his self proclaimed best moment of his music career as releasing his single "I'm Sorry, I Like You" because it showcased his strengths and set the precedent for future releases, becoming known to Cardone and his associates as the day he started seriously getting into the music industry.
Like Cardone himself, his musical style can be described as chill and feel-good while maintaining as aura of seriousness and reliability with the message within. Like his inspiration Tyler the Creator, Cardone puts heavy emphasis on making music that makes himself and his listeners happy, often receiving messages from people all over the world reaching out to talk about how much they like the music and how it makes them feel, giving them something that they can relate to.
Music has influenced Cardone in many ways, giving him opportunities and experiences that without music, he would never had. Through music he has been able to meet many of the artists that he is a fan of and inspire his musical career. Their support in him and his passion paired with him continuously putting himself out there to grow his musical presence has greatly grown his confidence in himself and his music. Despite his success in the musical field, he still struggles with confidence in his passions and actions in pursuing it.
"My self confidence in my music has always been a challenge because I would make a song then later feel like it wasn't good enough so I would start back from square one," Cardone said.
Cardone emphasizes the importance of having supporters in his industry. He highlights Lillie Dephillips, a close, trustworthy friend and musical adviser who not only supports Cardone's musical journey but also gives advice and critiques to each of his uploads, as someone who greatly helps him achieve his goals in music.
Rhiannon Kuhr, ging by the stage name Rhiannon Autumn, fellow musician and friend of Cardone also plays a major role in Cardone's music career and life. Kuhr is not only another successful musician but also has several features on Cardone's singles, adding diversity to each track and creating popular collaborations that highlight the unique voices of both artists.
"He's super creative and always wants to try new things with me. I personally am a huge fan of harmonies, so when we're able to work on things and harmonize together I get super excited," Kuhr said.
Cardone's success in the music industry at such a young age has allowed for him to not only grow his musical expression and presence but also grow as a person; his unique experiences teaching him more about himself, his passion, and how to adapt his actions to maintain and grow the success that he has accumulated thus far.
Although Cardone's idea for the future is relatively uncertain, he plans to continue to pursue his music career and use his
platform to reach more people and influence them with his music.
Leave a Comment