Saanvi Mylavarapu, freshman, aims to climb Mt. Everest
At the age of just six years old, Saanvi Mylavarapu, a freshman at Hinsdale Central High School, began her hiking journey at Mammoth Cave National Park in Kentucky. There, her love for hiking and the great outdoors began. Since Mammoth Cave, Mylavarapu has visited over 20 national parks and hiked over 700 miles with the support of her friends and family.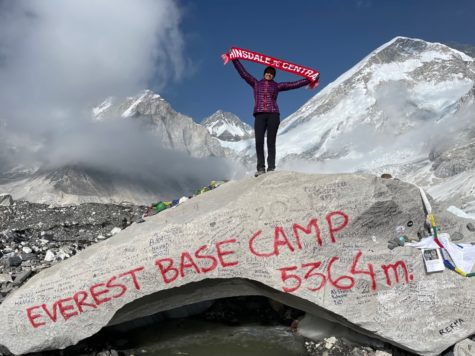 "I'm a curious person," Mylavarapu said. "I think nature is one of the best teachers because there's so much knowledge and so much to explore. The Earth is so vast and grand and I feel like our lifetime isn't enough to explore as much as I want to explore." 
Mylavarapu's love for nature and the planet fuels her passion for hiking. Her favorite so far, she says, has been climbing the Half Dome in California, one of the more dangerous feats which intensified her love for hiking. 
"If you don't enjoy hiking, then it's not pleasurable at all," said Mylavarapu. "You have to have a certain type of mindset going into it. And I think the toughest hike I have done so far has been this everest space camp hike, it was over ten days and as you go higher in altitude it becomes harder to breathe, you become more fatigued, and it's so uncertain because you don't know if you'll wake up the next morning with a headache or a stomach ache, it's a whole process." 
Mylavarapu's goal next year is to summit Mount Kilimanjaro and before the end of high school, the ultimate hike, Mount Everest. 
"I have to do a lot of cardio and a lot of running," said Mylavarapu. "In high altitudes, you get much more tired so it definitely tests your endurance. I do [training] myself, but I also do rock climbing competitively, which helps a lot with hiking." 
The training for this, however, is not just a rigorous physical routine. It consists of extraordinary mental preparation. Being constantly motivated and supported plays a large role in how you succeed outdoors. 
"I started hiking because I love nature and I wanted to be outdoors more. Hiking is a great way to explore because you're going places you've never gone before, places that pictures can't do justice. It's the way to truly explore the world," said Mylavarapu. 
To follow Sannvi's journey, follow her Instagram @chalkbagsntents.
Leave a Comment