Meet Meghan Martell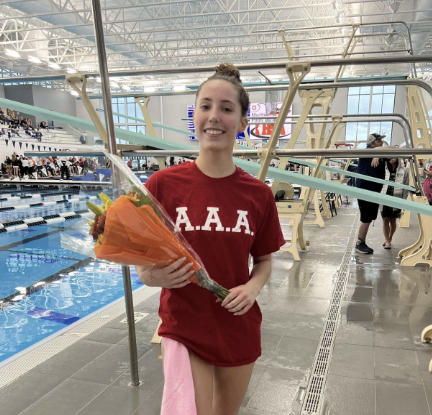 Meghan Martell, sophomore, is a diver for the Hinsdale Central swim team. After only two years of diving for the school, she has had great success and broken the record for Sophomore Diving 6, and placed ninth in state on Friday, Nov. 11 and Saturday, Nov. 12. 
Martell began her athletic career as a gymnast, where she spent the majority of her life competing. Due to multiple injuries, she switched to diving as a chance to stay active in Central's athletic program. 
Who do you look up to when you dive?
MM: I mostly look up to my coach, Steve [Miller], when I dive.
When did you start diving? 
MM: I was a gymnast for my whole life and then switched to diving a couple years ago, I have now been diving for 2 years.
What is your biggest motivator for diving?
MM: First off, I want to dive in college so that keeps me super motivated. And the obvious is that truly it is super fun. Another thing most people wouldn't associate with diving is the fact that it really can help with your mental health, for me it gives me a way to relax.
How did you end up choosing dive as your sport? 
MM: Like I previously said, I was a gymnast for many years and because of numerous injuries I had to stop, diving was a good compromise.
Do you plan on diving in college, and possibly after?
MM: That is the goal, I would love to dive and collage and then really just take it from there, and see how it happens. I'm only a sophomore so I still have two years to think about it.
What is your biggest accomplishment in diving? 
MM: I think my biggest accomplishment is breaking the sophomore diving 6 record this year. And also placing 9th in state this year!
What challenges do you face diving? 
MM: A huge challenge all divers face is mental blocks, the important thing is knowing how to deal with them, and to not become too hard on yourself because they happen to everyone.
How do you deal and move on from injuries/setbacks? 
MM: Injuries happen to everyone and as much as you may not want to, the most important thing is that you take time off to heal to prevent more injuries in the future.
What is your favorite Hinsdale Red Devils dive memory? 
MM: One of my favorite Hinsdale Red Devils dive memoires is Red White, which is the meet that kicks off the school year, and another one of my favorite memories is when CC [Huber], our dive captain, landed on her stomach.
Leave a Comment