Q&A with Questbridge scholar Mai-jeanna Sakho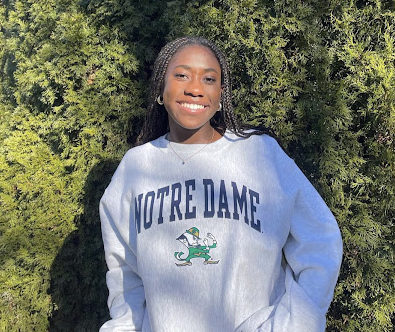 Mai-jeanna Sakho is a senior at Hinsdale Central who will attend the University of Notre Dame in the fall through Questbridge. She will major in Psychology, with a plan of attending medical school. 
Questbridge is a national nonprofit designed for low-income students to potentially grant them scholarships and other college opportunities. Sakho was awarded the Match Scholarship, where she was granted a four-year scholarship at University of Notre Dame. 
How did you find out about Questbridge?
MS:I found out about Questbridge from an organization called Green Halo Scholars and Chicago scholars. I was encouraged to try different scholarship programs and Questbridge offered a great variety of schools to choose from. 
Why did you pick Questbridge to apply to your colleges? 
MS: My commitment to Questbridge was because they offer a wider range of colleges. My school counselor also supported my desire to apply through Questbridge which enabled me to fully commit to this program. Upon receiving my acceptance to the program, I was asked to revoke my applications to other scholarship programs. Questbridge allowed me to apply to a multitude of colleges and pushed me to really find my best match. Also, as a first generation college student it gave me access to information on the college process that was crucial to finding the right school for me.
What was the process in applying for Questbridge? (Any difference to common app?)
MS: To start, you have to apply to the program questbridge as a whole. To apply, you must prepare two common app- like essays as well as multiple shorter essays (typically less than 400 words). Once you are admitted to the program, you have to apply to your selection of schools which each require their own "Questbridge Questionnaire" as well as the common app questions.
What is the matching process?
MS: Through Questbridge you get to rank multiple schools, 1-10, depending on your desire to attend the school. After applying to each school individually, on matching day you get matched to the highest school on your list that you've been accepted to. You do not see whether you were accepted into the schools ranked lower than the one you matched with.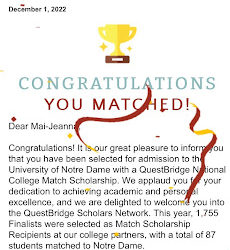 Can you describe how you felt when you got matched to Notre Dame?
MS: It was an unbelievable moment. I felt as if so much anticipation and weight was lifted off my shoulders. I am truly grateful for this opportunity and thank my family, my counselors, and my friends for supporting me through the process.
Would you recommend Questbridge to any other student?
MS: I would recommend Questbridge to everyone I know. It is not harmful in the least bit and is very helpful to students going through the college process with limited guidance.
 For more information about Questbridge, click here
Leave a Comment
About the Contributors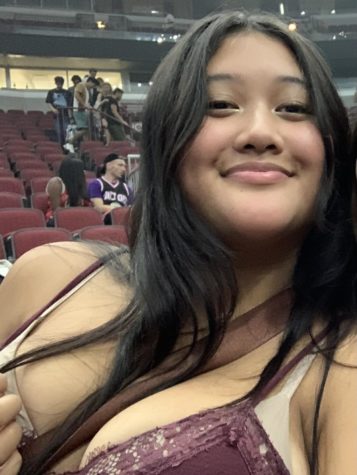 Ella Songco
Ella Louise Songco, senior, is excited to be a contributor for Devil's Advocate this year as a writer and photographer. She spends most of her time babysitting,...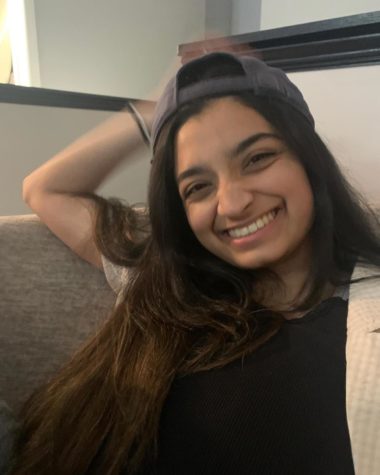 Simrah Qasim, Editor-In-Chief
Simrah Qasim, senior, is excited to be returning to devil's advocate. She loves listening to music, writing, and playing the piano. Along with Devil's...