HC students register to vote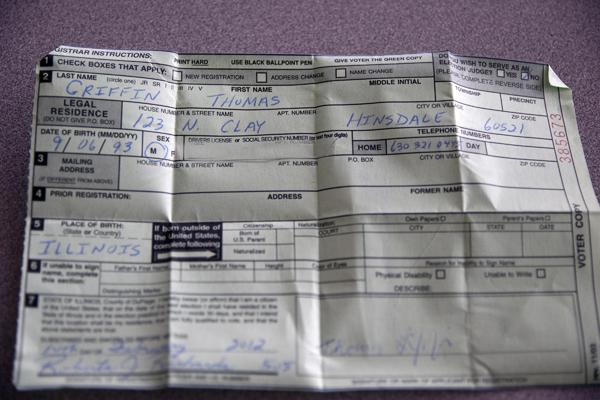 Students who will be 18 by the primary election registered to vote. The local League of Women Voters held the registration in all lunch periods..
With a birthday before the primary election date, Claire Walker, senior, was one of the seniors who took advantage of registration.  Walker explained that the event was very convenient.  "I think it's a great idea, and I hope they keep giving seniors the option to do this at lunch every year.  I knew that if I had to go somewhere to register later, I'd probably never get around to it.  But I really want to vote in this election," Walker said.
Megha Aggarwal, senior, agreed.  Aggarwal registered first semester through Mr. Alex Hipskind, a constitutional law teacher. "Mr. Hipskind heard my name on the announcements and told me he would register me to vote for my birthday present, so I brought two forms of ID and the next day I was registered," she said.
Regarding the handiness of registering at school, Aggarwal said, "I thought it was more convenient. Honestly, I wouldn't be registered right now if they didn't do it at school."
Similarly, senior Nora Al-Sibaie said, "If many seniors, like me, didn't know where to go to vote, who to ask, or if their time is even worth it, they probably wouldn't have gotten around to it for the Republican primary.  I think the school made it really easy and convenient for 18-year-olds to register to vote, and I definitely think it encourages people to go ahead and register."  Al-Sibaie was already 18 at the time of the event, but regrets not registering during lunch.
The procedure itself, as Walker explained, was fairly short and simple.  "It took maybe two minutes.  They just asked for my school ID and driver's license, and then I read a little oath that I had to agree to, saying I am who I say I am," Walker said.
The three seniors explained that the registration could affect seniors' involvement in the presidential elections.  "I think registering at school is a good idea because it gives seniors a place in society as well as a say in government," Aggarwal said,  "I feel like the school and parents are really trying to get students involved and interested in what's going on outside of Hinsdale Central."
Walker showed how the ability to vote itself makes students feel more pressured to inform themselves.  She said, "Now that I'm registered, I feel a lot more pressure to do research on the candidates so I can vote for the right one."
"One of the main rights you get when turn 18 is the right to vote, and I personally feel it's one of the most important ones because it allows you to have an impact on your country  in a direct way," Al-Sibaie said.  Regarding the school registration itself, Al-Sibaie added, "I definitely think it reminds seniors that they have the right to vote now and that they should exercise that right.  This gives them an incentive to actually get informed about politics and take the time to go out and vote."
Leave a Comment