Science Olympiad team ranks fourth at state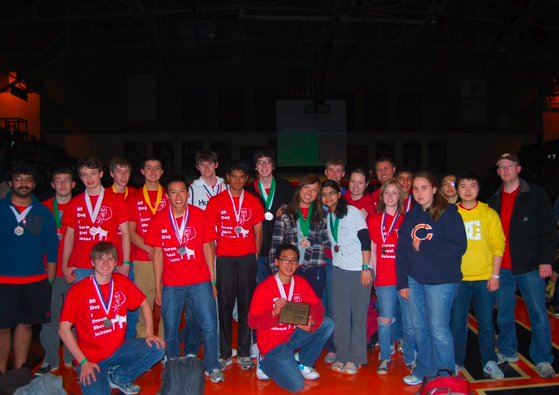 The Science Olympiad team competed in the state competition this past Saturday at the University of Illinois at Urbana-Champaign. Strong top-five individual performances in five of Central's events secured a fourth place finish, which is the highest the Science Olympiad team has ever been ranked  in the school's history.
Aidan Jones, junior, said the finish reflects the strong season Science Olympiad had this year. "Overall, this year was pretty great," Jones said.
Stephanie Wey, senior, agreed with Jones' statement noting the team's success prior to the state finals, "We were the regional champions," said Wey, "so our performance at State was really hyped up. Our president really thought we could place this year, since we did so well this season."
Although the Science Olympiad team received fourth overall, individual performances by groups of students in their specific events was the key to the team's overall success.
"I participate in an event called experimental design," Jones said. "It's an event where you have to create and perform an experiment on a completely random topic with materials provided by the officials. For example, this weekend we had to design an experiment to test lung capacity uses only a plastic bag and bucket of water."
With a strong finish at state this year, the Science Olympiad team is hoping to come back even stronger next year. "Although we lost to schools such as IMSA and New Trier this year," Jones said. "I am proud of the team and truly think we can be even better next year."
The team's individual finishes are as follows:
1st place, Robot arm: Danny Mallek and Andrew Mallek
1st place, Green generation: Priya Pillai and Max Maydanshik
2nd place, Rocks and minerals: Charlotte Kanzler and Brendan Eng
3rd place, Remote sensing: Brendan Eng and Ben Eng
3rd place, Protein modeling: Arnav Rana and Chris Merchantz
3rd place, Experimental design: Abhi Deshpande, Aidan Jones, and Brendan Eng
5th place, Forestry: Stephanie Wey and Patrick Zeifert
5th place, Gravity vehicle: Tommy Mulc and Roy Bliley
5th placc, Microbe mission: Gouri Dharmavaram and Stephanie Wey
5th place, Sounds of music: Stephanie Wey and Chris Merchantz
Leave a Comment