Habitat for Humanity holds its annual chili fundraiser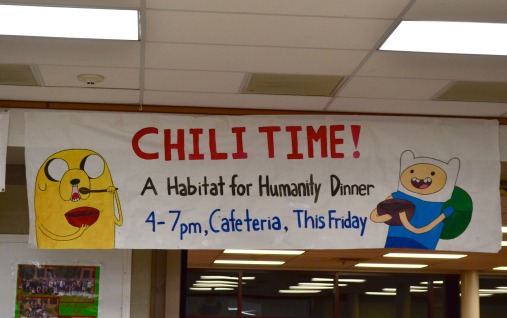 Habitat for Humanity held its annual chili fundraiser on Oct. 19 to raise money for those in need.
While the fundraiser generally gets a steady response from year to year, it still generates a substantial amount of revenue. "I would consider [the fundraiser] a success," said Troy Miller, junior and vice president of the club's public relations. "We sold over 1000 tickets and raised over $5000 for charity."
The money raised will be going to two different causes, one of which is the Schools Count Corporation, a charity that provides aid for schools. "The first chili fundraiser was in the fall of 2005 after Hurricane Katrina, and it was organized by a teacher, Mr. Flesher, who organized the fundraiser in an effort to provide relief for those suffering from Katrina," said Mr. Dan Otahal, club sponsor and Social Studies teacher. "He came to ask if Habitat was interested and we said yes. [Flesher] later went on to start the Schools Count Corporation."
The rest of the money raised will be going to the house the club builds every year in West Virginia. "Every year about 40 student volunteers go down to West Virginia where we participate in a 'blitz build,' which is building a house in five days," Miller said.
"The family we provide for is usually in the process of transitioning from very substandard housing into a Habitat home which is very safe and affordable and comes with a lot of support structure," Otahal said. "A lot of Habitat families have trouble getting a loan from a bank. So Habitat provides them with a support structure, and they actually buy the home, but they pay back the loan at 0% interest, so Habitat doesn't profit off of it."
Leave a Comment