Girls' soccer rallies to win regional final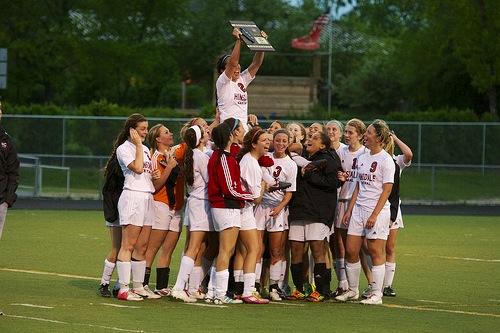 Scoring two goals late in the regional championship game against Wheaton North High School last Friday, the girls' varsity soccer team advanced to the sectional semifinal for the third straight year.
Top seeded in its sectional, Central (14-3-3) is looking forward to making a run to state after winning the regional championship 2-1. Goals from Meghan Schick, junior, and Alison Cerny, junior, guaranteed the Devils another game.
The team, undefeated in the West Suburban Silver Conference, defeated Proviso East earlier in the week in the regional semifinal.
According to head coach Michael Smith, the team has all the tools needed to have a successful postseason run. "We have the team mentality of a winner," Smith said. "We are returning a lot of players from last year, so this is one of our more experienced teams in recent years."
The team will face fourth seeded Benet in the sectional semifinal at home this Tuesday at 5 p.m. Although the team is the higher seed, Smith knows the team cannot take any opponent for granted.
"We'll go as far into this postseason as our organization and discipline take us. The number one seed label can only take you so far," Smith said.
Leave a Comment