Alec Wohlever recognized by Congressman Roskam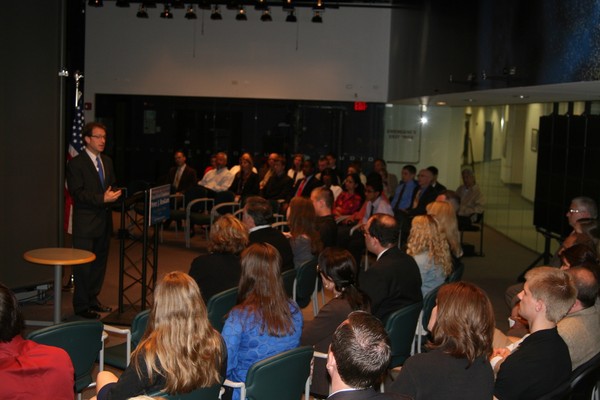 Alec Wohlever, senior, was recently chosen by Principal McGrory as the Hinsdale Central recipient of the Sixth Congressional District Award of Illinois.
The award recipients were announced at an awards ceremony at the Dupage County Flight Center by Congressman Peter Roskam. "I went to the Dupage County Flight Center for a ceremony with all the other award recipients, so we got to meet, and he gave a little speech. [Peter Roskam's] message was that you've been provided with these gifts, and it's kind of your duty to spread them and use them for good influence on other people," Wohlever said.
Wohlever, the only Central representative, was awarded along with 19 other students in the district. "It was a recognition award. My counselor asked me if I wanted to apply; she said she'd nominate me. [As for] the résumé, most of it basically talked about the kind of volunteer work  you've done or work experience, and I don't think it focused on the academics as much," Wohlever said.
Wohlever participates in several different after school activities, many of which involve volunteering. "I've run track and field all four years here; actually tomorrow morning I'm leaving for state. And then I'm involved in a church group. I've done five service trips in the past three summers. It's similar to what Habitat for Humanity does where they build houses and repair houses in really poor communities," Wohlever said.
He also volunteers as a counselor at a camp for kids with disabilities. "I've also done Camp Courageous, where you go for a week and volunteer as a counselor, but the camp is for kids with special needs. That's a really interesting experience – to work with those kids and really get to know them for a week over the summer. That's also a blast for me, it's a really fun time," Wohlever said.
Wohlever thinks the service trips are what gave him an edge for the award. "I've always found those trips fun. It doesn't feel like a chore. After the first one I did my freshman year I was like, 'this is something I want to do.  It's fun. That's probably the factor I feel like [Principal McGrory] saw,"Wohlever said.
Leave a Comment