New principal selected for 2014-2015 school year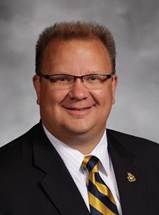 Hinsdale Central welcomes Dr. Mark A. Kolkman to serve as principal next year.
Dr. Kolkman was chosen based on multiple meetings and interviews with students, staff, parents, community members, faculty, administrators and the principal from Hinsdale South. "Those folks then provided their input to the superintendent provided what they felt were strengths and then areas of concern," said Interim Principal Tom Paulsen.
In Superintendent Dr. Bruce Law's emailed statement, he said, "This has been an intense process with a number of highly-qualified candidates."
"He brings a range of experience at three large suburban high schools, that I think is unique to his particular candidacy," Paulsen said.
In the past, Dr. Kolkman has been assistant principal for both Neuqua Valley High School and Glenbard East High School.  He has also served as a coach, art teacher, and assistant athletic director at Naperville Central High School.
Paulsen has known Dr. Kolkman for over 30 years. He explains how Dr. Kolkman places student needs high on his priorities.
"I am confident that Dr. Kolkman will do great things for our staff and students and be a wonderful addition to our District 86 family," Law said.
Dr. Kolkman will be in the building tomorrow meeting with staff and greeting students. There will be a reception held for Dr. Kolkman tomorrow at 3:00 p.m. in room 124. Students and staff are welcome to attend.
Leave a Comment