Central loses to LT in voter registration competition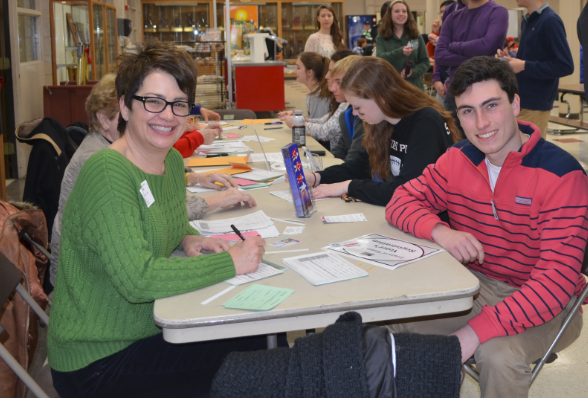 Illinois Voter Registration Laws have changed, allowing students who turn 18 by Nov. 4, 2014 to register to vote in the primary elections held in March.
The Social Studies Department held a Voter Registration Drive this past Thursday to encourage eligible students to vote. The Voter Registration Drive was made into a friendly competition against Lyons Township High School in order to see which school could register the most students.
Overall, the drive was a success as it had a huge turnout. Though Central fell short in beating Lyons Township with its percentage of eligible students registered, the Social Studies Department was still happy with the outcome as 600 new voters were registered from both schools.
Of the 865 eligible students at Central, 196 registered to vote, which was of 23% of eligible students. On the other hand, Lyons Township registered 423 students, 34% of 1250 eligible students.
Lower student participation may have been due to the lack of awareness about the registration process and the drive in general.
"The lines were really long and crowded. Also, I couldn't register because I forgot my passport, which I needed," said Priya Pillai, junior.
Anjali Chacko, junior, believes the event wasn't publicized as well as it could have been. "I think a lot of people forgot that it was happening, and it wasn't advertised enough," Chacko said.
On the other hand, some students found the drive to be very convenient.  "If I hadn't had the opportunity to register to vote at school, I probably wouldn't have registered at all," said Claire Pocius, junior.
| | | |
| --- | --- | --- |
| | Hinsdale Central | Lyons Township |
| Eligible Students | 865 | 1250 |
| Total Students Registered | 196 | 423 |
| Percentage of Eligible Students Registered | 23% | 34% |
Leave a Comment