Senior Swap: seniors trade college apparel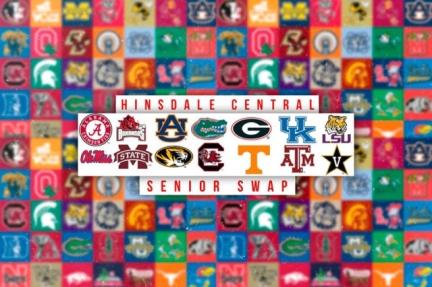 With the May 1 National College Decision Day rapidly approaching, more and more Central seniors are committing to universities all across the country. As a result, Central's senior hallway has been brightening in color – literally. Older, longer-tenured collegiate gear is disappearing while newer, shinier apparels are making their appearances. The phenomenon is a physical representation of "out with the old, in with the new."
Of course, these "old" manifestations of previous collegiate allegiance will inevitably sink to the bottom of student's closets over the upcoming weeks. There, they will rest for months, only ever rescued perhaps by the occasional thieving hands of a younger sibling. Otherwise, this clothing will undoubtedly be trapped, untouched by time.
Seniors Brian LaManna and Quinn Kuhlman struggled with the idea of letting their clothes hibernate, unused. LaManna, owner of substantial amounts of UCLA and Illinois paraphernalia, has just committed to Indiana University, voiding his ties with the schools he previously considered. As such, he expected to never again wear other schools' "swag" – clothing that was previously a large portion of his wardrobe.
Then, an idea struck him. He, along with his partner Kuhlman, formulated a plan so that he and his peers can stop the abandonment of perfectly good quality collegiate clothing.
"What am I supposed to do with all the other college gear I have at my house? Let it sit?" Kuhlman said.
Knowing that hundreds of other seniors were pondering similar questions, the two devised a way for seniors to give their non-choice college clothing to those who would find value in them while getting something back in return. After the recruitment of several other organizers, the Senior Swap was born.
The idea is relatively simple. From April 23-25, the Senior Swap team will be collecting gear from senior students. In return, the students will be given "credits" that will be kept track of by Swap organizers. Then, on Monday, April 28, pictures of the gear will be posted on the Senior Swap Facebook page.
The page will serve as a first-come, first-serve distribution service. The first person to comment "mine" on the post will be sent a confirmation message, have their credits deducted, and then (later in the week), they will receive the item. By this method, collegiate gear will end up in appropriate hands. It's recycling in a fun way that, according to Kuhlman, allows students to "benefit each other."
The page is growing as more and more students join.
"We have already pre-collected over 30 colleges worth of gear," LaManna said.
Even though the actual collections won't begin until next week, he expects the number to grow substantially.
"The more people that participate, the better it will be – it kind of has unlimited potential," LaManna said. Both Kuhlman and LaManna expect "300 plus items" by the end of collection. "And for the items not claimed? They go to charity," LaManna said.
Unfortunately, no matter how much is collected, the exchange will likely be unable to represent every one of the schools seniors will be attending in 2014. However, there is still reason for the under-represented students to donate their old gear. Every credit left over after the exchange will count as a raffle ticket for extra-prizes, including sports tickets and memorabilia.
This idea is the first of its kind at Central. Should the Swap experience success this year, both Kuhlman and LaManna expect the trend to continue with next year's seniors.
"This is an awesome opportunity for seniors to get value back for item they will no longer use," said LaManna. "Senior Swap is needed for graduating seniors."
For more information on the swap, go to the Senior Swap Facebook page or contact Brian LaManna.
Leave a Comment