Hinsdale Central starts social year with a bang(er)
Central's Student Council put on a school-wide party in the field house on Aug. 26 following the Red-White Scrimmage football game. The event, called the Back to School Bash, featured a DJ, glow-in-the-dark mini golf and an inflatable obstacle course.
Mrs. Sally Phillip, Activities Director, was a primary organizer for the event with Student Council.
"The purpose was to kick off the year," Mrs. Phillip said. "Student Council wants to get kids involved and make HCHS their home. We wanted a free event that anyone could come to."
Sarah Steil, junior, was one of the hundreds of students in attendance at the Bash. Because everything was in the field house, students could easily switch from putting golf balls under the blacklight to dancing. "There was something for everyone to do," Steil said.
The Bash served as a way for students to unwind after the first week of school, and give them a taste of what else was in store for the rest of the year.  
Social Chair Will DeAngelis, senior, also helped organize the event.
"We're trying to set the tone for this year and let everybody know how rowdy it's going to be," DeAngelis said.
In addition to the upcoming football games, the next biggest social event for students is the Homecoming dance on Oct. 1, which is accompanied by the Homecoming Art Show and pep rallies.
In the future, Student Council has some surprises including a "haunted hallway" before Halloween and the return of the Mr. Hinsdale pageant later in the year.
With so many events to look forward to, students were given just a taste with the Back to School Bash. The goal was "to get lit with as much of the school as possible," DeAngelis said. "That was definitely accomplished."
Leave a Comment
About the Contributor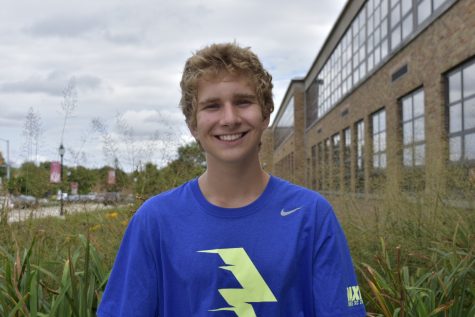 Joseph Miscimarra, Multimedia Editor
Joseph Miscimarra, multimedia editor for Devils' Advocate, enjoys eating absurd amounts of cereal to fuel his busy day. When he isn't volunteering for...