Homecoming Court strives for neutrality and equality
The Homecoming Court is a tradition students look forward to every fall. However, this year a new question has been brought up; do Central's traditions discriminate against the minority? Traditionally, the court is made up of 12 boys and 12 girls, all seniors, and is announced at the beginning of Homecoming week. On the Friday before Homecoming, the selected nominees perform skits in pairs at an all-school assembly that coincide with the dance's theme. This year has included some changes. 
The partnerships are self-chosen within the 24 nominees, and in the past have consisted of one boy and one girl. The boys have been known to wear white suits while the girls wear black dresses with red heels to the assembly and parade. Each skit concludes with the boy presenting a rose to the girl, and the couple walking off to join the rest of the court and enjoy the remaining skits.
This year, Central students can expect an adjustment to the system regarding nominations, skits, and the elected royalty. "We're trying to make the Homecoming court more inclusive," said Mrs. Sally Phillip, activities director. "Rather than being nominated as a boy or a girl, we're asking kids to pick if they'd like to be nominated on the 'Kings' list or the 'Queens' list."
The idea to make Homecoming more inclusive this year began when Vicky Peralta, a senior and non-binary student, and their* friend Aly Claycomb, senior, approached Mrs. Phillip seeking a solution to feel more included in the traditional nomination process.
"It was exclusive in the fact that you had to have a gender requirement to be king or queen (boy and girl), and it was exclusive to non-binary genders and gender nonconforming identities," Peralta said.
Mrs. Phillip said, "When the student initially came to me, I spoke with our Varsity Club sponsors and the building administration team. Then, we talked to our attorneys for the district and met with Student Council."
The administration and activities office worked together towards a solution so that any student nominated for the homecoming court felt accepted.  "We've also been speaking to the schools in our conference, members of the Illinois Directors of Student Activities, and some outside organizations for some advice on how to move forward in the most inclusive way," Mrs. Phillip said. 
Mrs. Stephanie Hiffman, one of the Varsity Club sponsors, also noted the quantity of influence from around the building. "We included the club sponsor for Gay Straight Alliance as well as some social work input and the deans; [these changes] have been talked about on just about every level," she said.
Students can also expect to see modifications to the nature of the skits, including who nominees are partnered with and what they choose to wear. "We're trying to embrace change, while still keeping tradition," said Chaz Zayed, social chair. 
Zayed was a part of the team of Student Council members that worked on these changes the weeks prior to nominations. "During skits, you can partner with anyone on the opposite list, and pairs can consist of two guys or two girls," Zayed said.
The skits are an essential part of Central's tradition, and are often what the student body most looks forward to during the Homecoming Pep Rally, which will be held on Sept. 30. Rather than the customary roses being presented at the end of skits, the court is choosing to move away from these typically romantic themes.
"We're trying to de-romanticize it, so we won't be presenting roses. We'll still be voting for a king and queen from those lists of nominations," Mrs. Phillip said. "We are having gender neutral crowns, and we will also be asking the court if they'd like rose crowns or boutonnieres for the parade. We want to provide more choices for kids to have a more inclusive Homecoming court."
Students were quick to form opinions when rumors first spread of the idea of a gender neutral Homecoming court. A main issue was that no one really knew what was actually being implemented.  "What I've heard is that it won't be 12 guys and 12 girls, but just that anyone can be chosen," said Jill Schlais, senior. "I liked how it was before, but now I don't know what to expect."
Others were confused by the rumors, but open to new ideas. "It's kind of surprising because they've done it the other way for so long," said Maggie Moeller, senior. "But sometimes change is good."
The adapted Homecoming court is only the first step of Central's goal of creating a more safe and accepting environment.
"We'll continue to work with this for our winter dance, Prom, and senior superlatives," Mrs. Phillip said. "We're working on an education piece as well, starting more so with our staff, so we know what to do to provide the correct education to our students."
Although there has been a lot of buzz around the layout of Homecoming, at its core it is quite similar to the previous years. "Not that much has changed," said Abby Ward, Executive Board secretary. "We discussed and weighed many ideas, and I hope that students embrace our decision because it is designed to benefit the whole student body."
The first round of voting for Homecoming Court will take place on Tuesday, Sept. 20 for all seniors. All grade levels will be able to vote for the Red Devil Royalty following the skits on Sept. 30.
*UPDATE: This post has been updated to use Vicky Peralta's preferred pronouns.
Leave a Comment
About the Contributor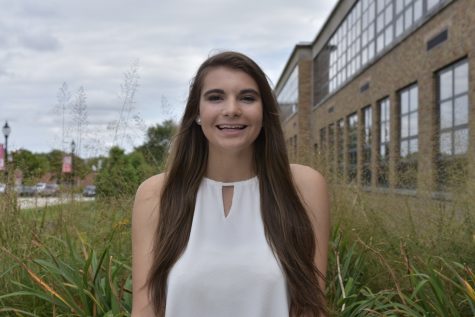 Shannon Ging, Sports Editor
Senior Shannon Ging loves writing for Devils' Advocate, especially if it is about sports. She spends most of her time cheerleading, whether it's for the...