A latte new drinks
The addition of iced coffees last year left students with high expectations for the future; thus came the new latte machine and revamped beverage menu this year. 
The Metropolis Coffee machine, purchased over the summer, stirs up a variety of drinks.
"It makes mochas, lattes, macchiatos, double and single espressos, and americanos," said Mrs. Christine Last, Quest Food Management Services. "We didn't start trying new things until now because things were still being set up the first couple weeks of school."
Aside from the classic caffeinated drinks, hot chocolate, the strawberry banana smoothie and caramel apple latte stand out as unique.
The caramel apple latte has a crisp apple taste with a slight hint of caramel. To finish off, it's topped with whipped cream and cinnamon.
The strawberry banana smoothie is a healthier alternative for those looking for something sweet. 
"This [strawberry banana] smoothie tastes exactly like Jamba Juice. It's really sweet and flavorful," said Layla Byrd, junior.
There is no doubt that the new beverage menu will attract students, especially those coffee-crazed ones. Not only will they benefit from this new beverage menu, but so will teachers. This could even save students and faculty a trip to Starbucks each morning. 
Leave a Comment
About the Contributor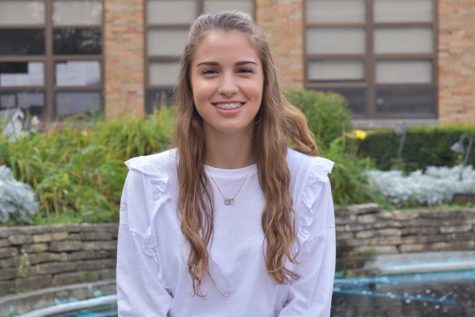 Samia Douedari, Section Editor
Samia Douedari is a senior who enjoys to write whether it's for a class or for fun. Along with being a part of the cross country and track team at Hinsdale...