The festivities of Homecoming
The weekend of Oct. 1 marked the end of Homecoming festivities with the dance taking place in the field house that Saturday evening. The week leading up to the event included many activities from the art show, pep rally, powderpuff and floating building. Even if the parade did get canceled, many students still felt the spirit.
"Since the theme this year was Welcome to the Jungle, we had to find a way to make the dress days coincide with the theme but still easy for everyone to participate," said Riley Burr, Varsity Club member and senior. "Since the Monday is always Pajama Day and Friday is always Red & White, we picked three spirit dress days that worked with the the theme: Animal Print Day, Wacky Wednesday (Where the Wild Things Are) & Red Goes Green. We partnered with Ecology Club to help conserve energy by turning most of the lights off for the day."
The homecoming pep rally took place on Friday, Sept. 30. The Cheerleaders, Pommers, and Color Guard all performed in front of an eager crowd.  Student Council put together activities and games for students to participate in. The last part of the pep assembly included the one minute skits put together by homecoming court nominees.
Starting Monday the nominees were paired together to create these skits. Often groups met late at night after homework and extracurricular activities were over. The end goal for the nominees is to have the best skits.
"I just didn't know how much time and effort had to go into planning an one minute skit. There were so many changes to the skit during the week and new ideas. Karsen [Dockery's skit partner] did a great job making the signs and planning a lot of it," said Marshall Dockery, homecoming court nominee and senior. "Getting my friends involved to help me with our skit was awesome and I'm happy with the way it turned out."
Saturday, Oct. 1, started off with the annual pancake breakfast, which would have been followed by the homecoming parade, if it had not been canceled due to weather issues. The next event was Central's homecoming football game against the Glenbard West Hilltoppers. A football team Central has not beat in ten years. Central ended up winning the game 31-30 in overtime.
While the Central's football team was winning the game students were getting ready for a night of fun and dancing. Girls often spend their morning running to and from appointments in order to get that "homecoming look".
Chloe Lapointe, freshman, really felt stressed since it was her first homecoming.
"I got my hair done at Zazu and I was not happy with how it turned out so my mom completely re-did it. I was super stressed. [My mom] also did my make up. I loved it…in the end I had a great time at with my friends," Lapointe said.
After students got ready for the dance, dates and groups of friends met up for dinner and pictures.
"My group went to Hinsdale Golf Club for pictures then Maggiano's for dinner. It was so much fun, the music at the dance was amazing," said Audrey La Valle, freshman.
The homecoming dance was held in the field house, decorated by Varsity Club. The dance started at 8 p.m. and ended at 11 p.m. At 10 p.m. homecoming nominees were called up for homecoming king and queen to be crowned. The 2016 king and queen were William Bowater Mary Kress.
"I almost had tears in my eyes, [winning homecoming king] was a special moment and I am super happy I got to share it with Mary," said William Bowater, senior.
The next school dance is Turnabout, but students will have to wait until February for those events. 
Leave a Comment
About the Contributor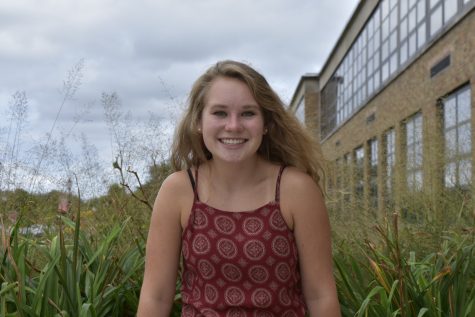 Becca Derezinski, Writer
Senior, Becca Derezinski, is always seen with a smile on her face. Becca is a horse enthusiast, constantly talking about anything horse related. If she...