Presidential candidate crash course
With the 2016 Presidential Elections taking place on Tuesday, Nov. 8, it is important for eligible voters and students to understand the perspectives of the presidential nominees. Voters should choose without the bias of their parents, friends, the media, etc. Below is a list of the candidate's views on prevalent topics that affect current society.
Disclaimer: This is just a basic guide for the candidate that best matches your interests. If a candidate seems deserving of your vote, more extensive research on your part may be necessary.
Donald Trump: Republican
Donald Trump strongly defends the second amendment, the right to bear arms and believes that an increase in gun ownership in the U.S. will make the country safer.
Trump aims to cut taxes for everyone, especially for businesses. By doing this, he aims to keep businesses and labor in America, ensuring the jobs created are going to Americans.
Because of his plans to implement an extremely rigorous process before letting refugees into the country, Trump is known for his strict immigration laws as a way to combat terrorism. He also wants to increase immigration laws by building a wall between Mexico and America and makes it very clear that he will have Mexico pay for it.
Trump plans to repeal Obamacare and replace it with Health Savings Accounts and extend rights within states as for their Medicaid laws.
Trump is against abortion, except for cases of rape, incest and when the life of the mother is at risk. He also has not supported any changes towards equal pay for women.
Trump aims to make college easier to pay for while expanding federal aid in order to support school choice for all students.
"When somebody challenges you, fight back. Be brutal, be tough." – Donald Trump
Hillary Clinton: Democrat
Clinton is for changes for the second amendment. She wants to expand background checks for gun owners and deny access to criminals and the severely mentally ill.
Clinton plans to cut taxes for the middle class and small businesses while ensuring that wealthy Americans are paying their fair share of taxes. She also plans to impose an exit tax for businesses looking to outsource labor in order to keep jobs in America. She aims to expand social security.
Clinton supports making a comprehensive immigration reform, making citizenship inclusive yet secure. She will also prioritize strengthening allies and defeating ISIS by strategic airstrikes. 
Clinton defends Obamacare and wants to continue to provide healthcare to all citizens.
Clinton is known for strongly defending women's rights, and in turn plans to close the pay gap, defend Planned Parenthood and fight for affordable childcare and paid leave.
Clinton plans to increase knowledge of computer science in this digital world, rebuild public schools and is aiming for debt free college.
"Let's continue to stand up for those who are vulnerable to being left out or marginalized." – Hillary Clinton
Gary Johnson: Libertarian
Johnson is in favor of the second amendment. He believes that if America were to outlaw guns, it would only encourage criminals to have guns. He also believes that pro concealed carry laws can protect from and even stop criminals.
Johnson supports replacing the current tax system with a national consumption tax, taxing people on what they spend rather than what they earn so that citizens aren't penalized for earning more. He strongly supports lowering taxes and stopping regulations that take money away from businesses in order to create more jobs.
In the past, Johnson opposed Obama's deportation of illegal immigrants and would have rather found ways for them to stay legally. He plans to make a more efficient system of visas and background checks. As for fighting ISIS, Johnson is focused on keeping the group and their ideas in the Middle East and out of America.
Johnson is for legalizing marijuana and for the government staying out of health care. He also plans to give states more flexibility on each individual state's coverage of Medicaid.
Although Johnson is pro-life personally, he recognizes abortion as a personal choice, making him in favor of abortion rights. As for equal pay, Johnson believes there are too many variables (education, experience, etc.) that influences pay for salaries to be equal.
Like Trump, Johnson believes in universally available programs for school choice, in order to make public and private schools better through competition. He believes in eliminating the federal Department of Education to eliminate common core and to have a more individualized approach for each student. He hopes the elimination of the Department of Education would lower the cost of college, making college more attainable for low-income students.
"I climbed Mount Everest. I don't quit." – Gary Johnson 
Leave a Comment
About the Contributor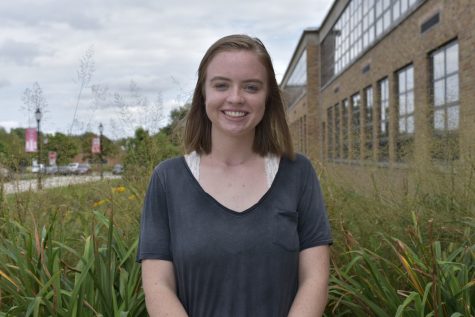 Emily Tomkinson, Managing Editor
When she's not running after Mr. Jensen in the science hall, Emily Tomkinson, senior, can be found shopping, watching clueless, or aspiring to be Gigi...