Republican nominee Donald Trump wins school-wide mock election
In a school-wide mock presidential election held on Thursday, Oct 6, Republican nominee Donald Trump won by six percentage points against the Democratic nominee Hillary Clinton. Students were only able to vote for the President.
Donald Trump received 42 percent of the vote, while Clinton received 36 percent. The rest of the votes were split between Gary Johnson, the Libertarian nominee, Jill Stein, the Green Party nominee, and Bernie Sanders. Although Sanders lost the nomination to Clinton earlier this election season, many felt passionate enough to write his name in.
'I'm not surprised at all about the results, to be honest. Hinsdale and Dupage County are very conservative, and many kids get their political views from their parents so I expected Trump to win," said Joey Bogdan, junior.
Trump's win may come as a surprise to many considering he's trailing in the majority of the national polls. CNN's most recent poll has Clinton leading ahead of Trump by five percentage points, 47 to 42.
"Young people throughout the country are supporting Clinton more than Donald Trump, so I was expecting that Hillary would win. In polls asking millennials who they support, they largely support Clinton," said Sachin Shiva, junior.
Others were more focused on third party candidates like Gary Johnson and Jill Stein.
"I do not like Clinton or Trump, I think both are really bad candidates so I decided to look elsewhere. I like Gary Johnson's demeanor and his policies so I voted for him, even though he didn't have a great chance of winning," said Pulkit Chauhan, junior.
Others had a more relaxed attitude to the election, writing in those who aren't even running for President, or might not be eligible.
"I wrote myself in for President because I don't really know much about any of the candidates so I thought, why not," said Emmett Wilson, sophomore.
Leave a Comment
About the Contributor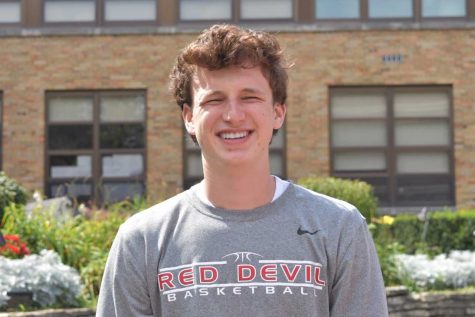 Everett Eck, Section Editor
Everett Eck is a senior who loves the sport of basketball. If he is not playing it, he is probably watching it. When he isn't playing basketball,...