15 car burglaries reported in Hinsdale
The Village of Hinsdale experienced a string of car burglaries on the night of Oct. 11.
According to a press release distributed by the Hinsdale Police Department, victims reported that between 10 p.m. and 6 a.m. on the morning of Oct. 12, several items were taken from their vehicles. Their cars were also left unlocked and either parked on the street or in the owner's driveway.
"I forgot to lock my car for the night, and I park it outside of my house. When I woke up in the morning and went to my car I could tell that somebody had been going through my stuff. Thankfully, I don't keep anything of value in my car, so nothing important was taken," said Alex Ritz, senior.
Residents reported 15 incidents, and in eight cases objects including a Macbook computer, an iPad, a backpack, and a pair of sunglasses were stolen. Because of this situation, many Hinsdale residents are taking precautions.
"I park my car on the street in front of my house, so I definitely have to be more careful. Before, I didn't always lock my car door because it was more convenient when leaving for school. Now I make a point to lock all my doors. My parents have also started locking the door to the garage," said Kevin Ellis, junior.
As the Hinsdale Police Department continues its investigation, they are asking Hinsdale residents for any help or information they can provide. The robberies have been surprising, as Hinsdale traditionally has a low crime rate.
"Our community and residents are very resourceful, and I'm asking that anyone who may have a security camera on their property review their storage to see if there is any information available that may aid with our investigation," said Hinsdale Police Chief Mr. Kevin Simpson, in a press release.
The Hinsdale Police Department advises residents to take the necessary precautions like locking your garage and car doors. For more information and updates, see the Hinsdale Police Department's website.
Leave a Comment
About the Contributor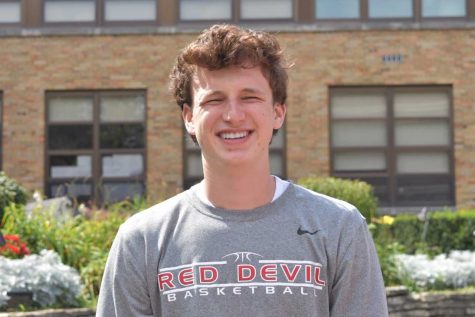 Everett Eck, Section Editor
Everett Eck is a senior who loves the sport of basketball. If he is not playing it, he is probably watching it. When he isn't playing basketball,...