Anti-bullying week becomes "Take a Stand Month"
This November, Breaking Down the Walls will participate in anti-bullying month, instead of just one week, by hosting activities to help students feel welcome and safe at school.
In years past, there has only been one week of anti-bullying initiative, but this has been expanded to what is now called "Take a Stand Month."
"We decided to turn November into anti-bullying month [to] increase the amount of activities we did," said Will DeAngelis, senior and club president.
Members of Breaking Down the Walls felt moving towards an entire month of activities would better capture the students' attention and put a emphasis on the student body trying to actively stop bullying instead of just acknowledging the dangers.
"We typically show our video and give out bracelets and candy. It's a busy week, but everyone expects what we do. Now it's a month. In order to catch students' attention and focus around a specific message of taking a stand instead of the general anti-bullying idea we changed the name." said Alison Schuster, senior.
This year, in addition to the anti-bullying video that has been shown in the past, Breaking Down the Walls is incorporating other activities."
We're asking any activities or classes to design a clothesline with shirts that encourage the 'Let's Take a Stand' message. We're also distributing compliment grams to people during class to student whose friends wish to send them a compliment. And there's bracelets saying 'Take a Stand' that we're giving out," Schuster said.
Breaking Down the Walls has also stressed the prevalence of bullying throughout the school. The club has strived to raise awareness that show that bullying is still a problem.
"During anti-bullying month, we try to show people that bullying, physical or emotional, exists and happens at Hinsdale Central. We want to show students what they can do in order to be an active participant in stopping bullying here at our school," said Marshall Dockery, club member.
The club knows they cannot erase bullying completely, but hopes to change the student body's attitude.
"If we can stop one kid, just one, from being bullied and make his or her life better then it's 100 percent been a success," DeAngelis said.
Leave a Comment
About the Contributor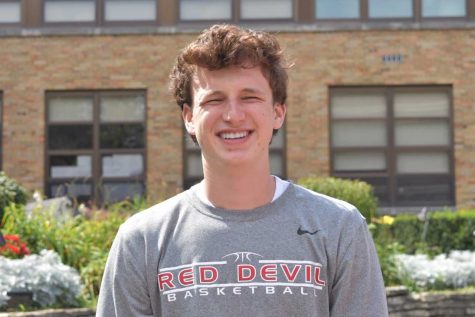 Everett Eck, Section Editor
Everett Eck is a senior who loves the sport of basketball. If he is not playing it, he is probably watching it. When he isn't playing basketball,...