Physics classes learn through go-karting
On Nov. 11, the traditional Physics and AP 2 Physics classes took a trip to K1 Speed go-karting in Addison, Ill as a way to experience concepts taught in class hands-on. 
Dr. James Vetrone, teacher, has brought students on this trip for 11 years. "I was the first to bring a high school class. [I] presented a talk at a national meeting of physics teachers, [and] now two other schools go too," Dr. Vetrone said.
Although the purpose of the trip is to be educational, students found it to be really fun too. "It was great to get a day off of school. I thought it was really fun and interesting applying physics to a real life simulation of driving," said Haily Baran, senior.
A key part of Central's physics curriculum is recognizing the applications it has outside of the classroom.
"[This field trip] teaches [students] how to drive safely, the physics of racing and applications of energy and circular motion to real life," Dr. Vetrone said.
Students had the opportunity to watch videos about car racing, and make measurements on the indoor tracks in order to gather data for a packet that correlated to their experience.
"We made measurements of the carts and the track, like the turn radius, speed and skid marks to find out about the forces involved in driving," said Michael Chadwell, senior.
The goal for students was to complete the fastest lap out of their group, but this challenge wasn't without difficulty as cars were hitting each other and the track walls.
"I got cut off several times, and they had to pause us every time someone's car got stuck. It was a really legitimate experience," Baran said.
The classes go on several field trips throughout the year that are appealing for both students and teachers. AP Physics 2 went indoor skydiving earlier this year, and both classes will go to Six Flags in the spring.
Leave a Comment
About the Contributor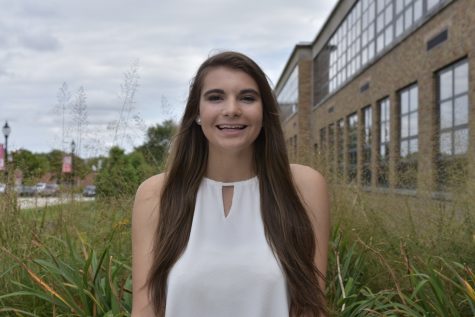 Shannon Ging, Sports Editor
Senior Shannon Ging loves writing for Devils' Advocate, especially if it is about sports. She spends most of her time cheerleading, whether it's for the...