Music department to perform holiday tunes for student body
On Tuesday, Dec. 13, the Orchestra will put on a holiday concert during the school day in order to celebrate the upcoming holidays, including Christmas and Hanukkah.
The holiday concert has become a tradition for the student body, as it has been a staple in the weeks before winter break, and many students are looking forward to seeing some of their peers perform.
"I'm definitely excited for the Christmas concert. I love hearing the holiday-themed music because it gets me in the Christmas spirit. It's also a nice break from the stress of the week before finals because you can just relax and listen," said Camey Calzolano, junior.
Although most of the songs will be related to the upcoming holidays, there will still be a variety of new songs, due to the scope and diversity of the music department. Different instrument groups will be able to showcase their unique and diverse skills.
"We will have the band, orchestra, choir, and jazz band perform one selection they have been working on. The groups will rotate one after another. The audience will get to enjoy a great variety of quality music, ranging from holiday to jazz to standard concert [music]," said Mr. Serge Penskik, orchestra director.
Orchestra students and directors have high hopes for their upcoming performance, as it is one of the few times they are able to perform in front of their peers during the school day; this performance is the culmination of the songs they've been working on virtually all of the first semester.
"The best part about the concert is knowing that all the hard work has paid off. We spend so much time rehearsing, but nobody hears how we actually sound until the concert. It always feels good to have the audience clapping and to know we performed well," said Bella Ivanov, senior and violinist.
The school's choir also has a selection of songs they are excited to perform. Choir members are excited to showcase their hard work and time through some holiday tunes.
"As a group, we will be performing Caribbean Carol and sleigh ride. I'm especially excited to perform Caribbean Carol because it is in another language, and this song can help make students who come from other countries feel more welcomed," said Armaan Sawhney, junior.
The large number of students in the music department also presents a unique challenge for the performers. Members of the orchestra have expressed how each section must work well together in order to have a memorable concert.
"A successful orchestra or any ensemble is like a sports team. In both cases, the members of the large group have to collaborate well together in order to achieve success in their common goal. We approach this concert with a team mentality; no part is too big or too small, and all are important," Mr. Penskik said.
More information on the orchestra and music department can be found here.
Leave a Comment
About the Contributor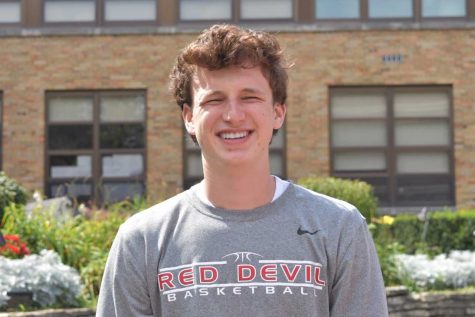 Everett Eck, Section Editor
Everett Eck is a senior who loves the sport of basketball. If he is not playing it, he is probably watching it. When he isn't playing basketball,...