District 86 stops diving at both schools due to safety requirements
On Dec. 20, 2016 District 86 announced that all diving activity would be stopped at Hinsdale Central and Hinsdale South. The school board was notified that both pools were seen as unsafe to dive in and was confirmed by a pool auditor. Both pools drew concern due to the fact they are 10 feet deep verses the National Federation of State High School Associations required 12 feet.
Central's pool was built in 1958, passing the safety requirement at the time. The high school was allowed to continue their diving team practice even after the requirement was changed to 12 feet because it was "grandfathered" in. This means that even though the pool did not pass the requirement, there appeared to be no safety concerns and all pools built in the future would be the required 12 feet deep.
The pool currently remains at 10 feet and is not in diving use because of a 12 inch ledge that sticks out on the deep end side of the pool. This 12 inch ledge qualifies as a safety concern and causes the pool to not be 10 feet deep.
"I never once thought the ledge to be a safety concern in my four years of diving at Central. The board sticks out three feet past the end of the pool. I think it would be hard to harm yourself on the ledge, you would have to try to hit it," said Margy McCarthy, Central alumni. 
Since diving has stopped at Central, the team has relocated to Downers Grove North for practice. Steve Miller, diving coach, transports the team in vans to DGN after school. The team is then transported home around 6:30 p.m.
At the District 86 board meeting on Jan. 5, Arcon & Associates presented ideas to deepen Central and South pool's along with constructing whole new pools for both schools. This operation would cost $2.7 million. Reconstructing Central's pool would cost $29 million. The reconstruction would include a natatorium and a 50 meter pool that includes 10 lanes.  
During the same meeting, the school board that decided instead of renovating the existing pool they wanted to build a new one at both schools. Many factors and concerns went into the decision. 
"The lack of diving boards creates a large separation between a program that is supposed to be swimming and diving. Besides that the locker rooms cause problems because we share with the girls as there is only one main locker room," said William Bowater, senior and two-time swim team captain. "Also, the deck is too small for us to host major meets such as conference, sectionals or state. Also the air quality in the natatorium is bad [which causes] a decrease in performance."
In April, the board will put forth a ballot to approve the $95 million dollar referendum. However, the taxes collected would not just go to the buildings of the new pools as $19 million would go towards fixing Central's overcrowding issue.
"Hinsdale Central has an amazing swimming tradition of state champions and even olympians." said Eric Marshall, former Oak Park resident. "A town like Hinsdale should support money for schools, Hinsdale is recognized nationally for the quality of its public schools. That's why you have affluent families moving in, and supporting property prices for everyone, so that everyone benefits, even people whose kids are past their high school years."
When deciding whether or not to ban diving at District 86 pools, the decision was not taken lightly.
"[I was] making a decision to ensure student safety was easy, but the disruption to the divers at both pools was predictable and dreaded," said Bruce Law, superintendent of District 86. 
Leave a Comment
About the Contributor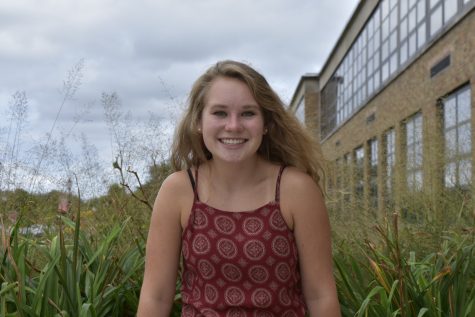 Becca Derezinski, Writer
Senior, Becca Derezinski, is always seen with a smile on her face. Becca is a horse enthusiast, constantly talking about anything horse related. If she...