Facebook takes a turn at live footage
Instagram captured the idea of live stories from Snapchat on Aug. 2, but now, Facebook wants to do the same. On Jan. 27, Facebook released Facebook Stories and hopes to spread it on to more countries after testing it in Ireland.
Similar to Snapchat's new feature of commenting on a story, Facebook Stories allows users to respond to a live moment. Although Instagram and Facebook both copied Snapchat's story idea, many students still prefer Snapchat as a means of sharing live moments.
"Snapchat is just so much easier to talk to people, and nobody really uses Facebook anymore," said Sarah Weber, junior.
Snapchat remains more popular among students. One reason may include that Snapchat tends to be more personal, whereas other social media outlets often entail hundreds of unknown followers or friends.
"I usually don't like posting Instagram stories because I'm not as close to everyone that follows me as I am with my Snapchat friends," said Tatum Lovelace, junior.
Facebook has always been a popular social network, making communication among family and friends easy. With the new generation, sharing photos and videos keeps on evolving towards a faster way of sharing. However, new technology isn't always in favor. Many long-time Facebook users, including teachers, find stories pointless or confusing.
"It'll be another thing for me to have to learn because I have Instagram too, and I've never made a story. So, it's something I've never done before, but I'm sure I'll see other people's stories and figure out how to do it," said Mrs. Hiffman, English teacher.
Learning how to use new features is a hassle, but large social media networks continue to develop. The new addition of Facebook Stories introduces the upcoming competition among social media networks.
Click here to watch a demo video of the Facebook stories.
Leave a Comment
About the Contributor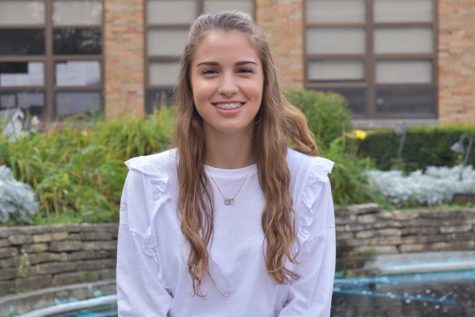 Samia Douedari, Section Editor
Samia Douedari is a senior who enjoys to write whether it's for a class or for fun. Along with being a part of the cross country and track team at Hinsdale...