Celebrating Black History Month
Throughout the week of Feb. 6 to Feb. 10, Black History Month committee put on a variety of activities celebrating Black History Month. Activities have included a poetry reading before school on Friday, Feb. 10, and a drum performance at lunch on Monday, Feb. 6.
These events were put on by the Black History Month committee, which is a group of students who met weekly in advance of Black History Month in order to plan out the activities. Their ultimate goal is to raise money to support Chicago schools that are in need. Last year the committee rose $250 for the Lavizzo Elementary School in Chicago, Ill.
Many of the activities this year have the full support of the student body. One event that was showcased in front of almost the entire student body was a drum performance put on by drummers Mr. Tony Carpenter, Mr. Steve Cobb, and vocalist/performer Mrs. Maggie Brown during lunch periods on Feb 3. During this performance, called "The Drum" Carpenter, Cobb and Brown performed while also educating the audience on what the drum means to African culture. They talked about how the drum was one of the first forms of communication in African culture and how it is still used today.
"I definitely enjoyed seeing the drummers at lunch on Monday because it was something different from the normal routine and it was nice to hear the drums," said Nick Tienken, junior. "I also enjoyed it because it gave me a new perspective on different cultures and how people communicated in the past."
Another activity that has taken place so far was the poetry reading that took place before school in the library from 7:20 a.m. to 7:50 a.m. on Feb 10. These poems were written and shared by students, who discussed things like racial inequality and stereotypes in our daily life. The poets met before school multiple times leading up to the performance.
"I thought these poems were really powerful and fit in well with the message of Black History Month in general," said Thomsen Randle, junior. " [The poems] opened my eyes to different experiences different people might have and made me consider what others have to go through."
As the month of February continues, more activities are planned to continue embracing Black History Month and African-American culture. These activities include a choir performance in the cafeteria, a jazz band performance on Feb. 21, and a town hall meeting on Feb. 24.
"I'm definitely looking forward to the new activities that the Black History Month committee has planned because I really enjoyed the drummers at lunch and the poetry reading in the library," said Ellie Geier, sophomore.
More information about Black History Month Committee can be found here.
Leave a Comment
About the Writer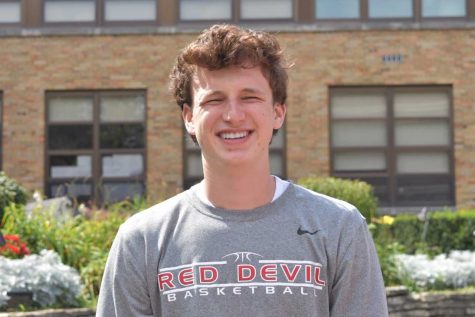 Everett Eck, Section Editor
Everett Eck is a senior who loves the sport of basketball. If he is not playing it, he is probably watching it. When he isn't playing basketball,...