Say it with a song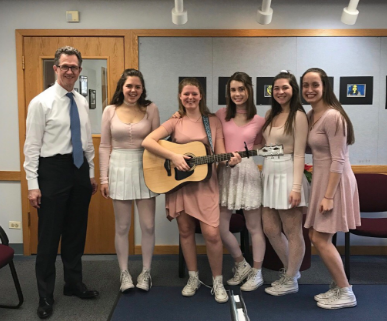 In the week before Valentine's Day, National Honors Society (NHS) partnered with the choir department to sell Singing Valentines during all lunch periods. The Valentines annually prove to be a favorite amongst students. This year a record 600 were sold, raising $1200 to be split between the choir department and NHS.
"A portion of our profits will go to Chicago area community music schools to provide scholarships for lessons or instruments to young musicians," said Ms. Burkemper, choir teacher in charge of Singing Valentines.
Students often enjoy sending Valentines to their friends and teachers to celebrate them, even if it's slightly embarrassing sometimes.
"A lot of people at lunch send them and sign them as people other than themselves. They think it's funny," said sophomore Michalea Halikias, recipient of a Valentine.
However, not every student likes getting sung to in front of their classmates. Ms. Burkemper said students received e-mails with the option to opt-out or could decline going up to sit in the chair, in which case the Valentines would either sing to the class or to a volunteer.
"A lot of people just kind of laughed it off and didn't make it awkward but there were some people who made it really awkward because you could tell that they did not want to be there," said Elisa Fridholm, sophomore and singer.
Many students do not know the amount of hard work that goes into creating the Valentines. Fridholm said that her group spent about six hours on their Valentine presentation, including choosing the group, arranging the song, practicing the song, creating harmonies, decorating the chair, and coordinating the outfits.
"I've been in choir in school as long as you possibly could," Fridholm said, citing her love of music as one of the reasons she chose to partake in this activity.
Like many singers who took part in the tradition, Fridholm said she will definitely do Singing Valentines again next year and the years to follow.
Leave a Comment