Executive Board Candidates give their pitch
On Wednesday, Feb. 22, the school will hold elections for the 2017-2018 Executive Board. Executive Board positions include President, Vice President, Secretary, Social Chair and Public Relations Manager.
Candidates have lined the hallways with posters, made videos and used social media to get the word out, but each candidate has used their own unique strategies to win their respective elections.
Here's what each candidate said regarding their campaign:
President
Alex Choi: "I decided to run for president because student government is something I really care about. I've been doing it since sophomore year and it's something I've really come to enjoy. From making funny posters that put a smile on people's faces or organizing pep rallies for the whole school to enjoy; campaigning and being in student government has just always been a part of my high school."
Kevin Qin: "I decided to run for president because I thought that our school was in a good place. I can improve on what had already been put in place. Furthermore, after winning Mr. Hinsdale, I thought who else could better represent Hinsdale Central than me."
Charlie Johns: "I've always wanted to be president and I realized how much I enjoyed my school and I wanted to support the positive environment that we have here. I believe it's the duty of the president to make sure people at school are happy, and I know I would be good at doing that."
Vice President
John Wheeler: "I want to be Vice President because I want to be a part of something important that can help me better prepare myself for what I will see when I graduate. I also think I would be a good Vice President because I will keep students' wants and needs a priority. Students are the most important in the school, so as Vice President I would work with them and listen to their opinions."
Kelly Nash: "I wanted to run for Vice President because I want the very best for Red Devil Nation. I have always admired the work that student government contributes to our school and community, and I truly would love to continue that tradition. I know that our school can count on me to be organized, accountable, responsible, and to have our school's best interests at heart. I would be honored to serve as our school's Vice President to make it memorable."
Colin Yandel: "To me Central is my home and RDN is my family; I just love this school and want to do all I can to be a part of the community and make Central the best it can be."
Social Chair
Joey Malcolm: "I think I would be a good social chair because I am very good at leading people and I am passionate about HC activities and the school. My partner Shayan Hussian and I are hilarious and are really good at having fun. It will be very easy for others to have fun with us."
Grace Hafner: "I decided to run for social chair with [Sawyer Riedl] because we want to contribute to the overall hype of the school. We felt that this position on executive board would be the perfect opportunity to make history because there has only been one team of female social chairs in the last 14 years, and there have never been social chairs from different classes. It's also a great way to promote kindness, school spirit, and constant dance parties."
Marshall Demijraan: "Tomas and I would be the best fit for social chairs because we are not scared to do anything crazy to get the student section hyped up. We are willing to put in the work that being social chair demands and promote the school in a positive way which everyone would enjoy. Marshall and I would make sure 2017-2018 will be the most exciting year Hinsdale could imagine."
Secretary
Ellie Margason: "Executive board in general is all about being the leaders of the school and representing the students and Hinsdale Central, and I think that I would be able to do that. I'm running because I want to make another memorable year for everyone at Central, whether it's going out with a bang or having a great first year, everyone deserves a another amazing year of high school. People should vote for me because I will bring great ideas for events, make games and rallies a heck of a good time, and overall be someone you can trust as a leader for the student body."
Rama Hamad: "For the past three years I've done student board and student council. It's just been a goal of mine to be on exec board since I was a freshman because it's the furthest you can go. I've been involved with board and council for all of high school and I want people to vote for me because this means so much to me and it's something I know I can be successful in."
Public Relations
Caroline Bowater: "I think I'd be a good PR manager because I'm creative and enjoy making posters and flyers that grab the attention of kids in our school. I also have experience as the current advertising manager on class board and the jobs are extremely similar.
Sara Villanueva: "I would really like to be Public Relations Manager not just to put it on my resume but because it would really mean a lot to me cause I have been on stuco for the last two years and it has easily been one of the best parts of my high school career."
Instructions on how to vote were sent out by e-mail and the winners will be announced on Feb. 23.
Leave a Comment
About the Writer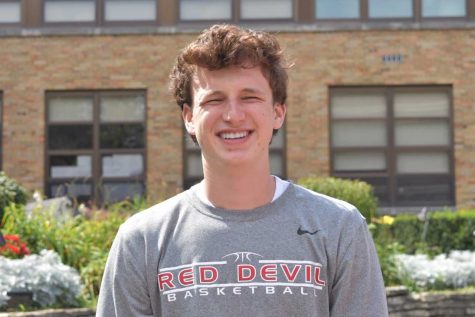 Everett Eck, Section Editor
Everett Eck is a senior who loves the sport of basketball. If he is not playing it, he is probably watching it. When he isn't playing basketball,...