Aerobics class make over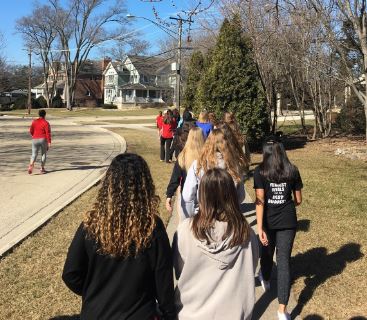 The aerobics class received a new name this year: group fitness. In the past years the class has been known to be easy going and relaxed but lately that has all changed.
Students who have taken the class before this year see the difference in intensity. The daily class includes using weights and running laps and is no longer strictly aerobics.
"I think the class is beneficial, they show a lot of workouts that I can use at home and the gym," said Jessica Racine, junior.
The curriculum often includes similar things multiple times a week. For example, on Mondays students use bands, on Tuesdays students work on sculpting, on Thursdays students dance to zumba, and on Fridays students do yoga.
"[The class description] should mention that it is not just zumba and yoga," Racine said.
Some students have mistakenly thought of group fitness as an easy PE course; however, students enrolled think boys should give the class a chance.
"[Students in group fitness] do dance competitions, zumba and sculpting. Guys don't want those types of things, meanwhile the stereotypical guys classes do more traditional sports," said Brian Schwartz, junior.
The name change is meant to reduce this stigma and stereotype and encourage more male students to consider enrolling. For more information about the course, students can visit the athletic office.
Leave a Comment