NHS organizes first blood drive
From Feb. 27 to March 6, students are able to sign up in the cafeteria for the National Honor Society (NHS) blood drive on Mach. 9 to donate blood.
NHS members posted signs and flyers around the school to promote the blood drive while also handing out flyers to students during lunch. Then, interested students would sign up to reserve a spot on the day of the blood drive. Registered students are able to skip a class of their choice and get a free gift card. Students must be 16 or over and display an identification card.
Heartland Blood Center coordinates a blood drive with Central every year, but they usually coordinate it with Business Professionals of America (BPA). However, this year, NHS is the club sponsoring it because everyone in NHS is old enough to donate, whereas BPA has many underclassmen who can't.
"I think it'll be successful because many students are excited about the idea of donating blood for the first time, as well as students who consistently donate," said Omar Nabulsi, senior and president of NHS.
The blood drive gives students a chance to offer help to those in need, as well as experience blood donation in an environment where students are comfortable. According to Medical West Hospital, donating blood also has many benefits, such as reducing the risk of heart disease.
"I'm not really wimpy about blood, and I know there's someone else who might really need it. I've always wanted to give blood, and it's great that the school gives me a chance to do that," said Ava Chami, junior.
Students of age 16 and over are eligible to donate; however, there are many restrictions on donating blood. For example, you can't donate blood if you're iron-deficient, visited or lived in another country, have a low blood cell count or weigh under 110 pounds.
"I tried donating blood before, but during the prescreening, they saw that I was anemic and sent me back to class," said Rand Abyad, senior.
Overall, the NHS blood drive allows students to give back to their community while teaching students about civic responsibility and coordinating a community event that helps save lives.
Leave a Comment
About the Contributor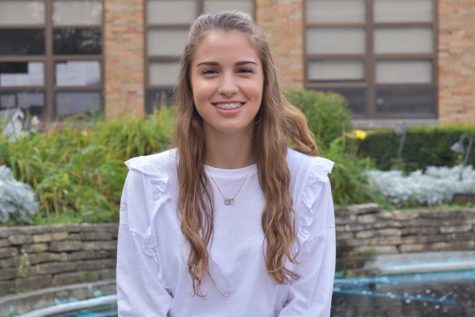 Samia Douedari, Section Editor
Samia Douedari is a senior who enjoys to write whether it's for a class or for fun. Along with being a part of the cross country and track team at Hinsdale...