Solstice: where students express
Solstice is a student-run publication that features creative writing, poetry, prose and artwork. It is focused on highlighting the creative side of students and spreading it around the school. Any art teacher and english teacher usually sponsor it, along with a group of students that jury the art that gets published.
"It's been an award-winning publication for many years where we ranked top in the nation," said Mrs. Milas, AP studio art teacher.
Solstice, a student-run club, has won the Columbia Scholastic Press Award for High School Magazines. This New York competition takes magazines from all over the country and awards them on two levels: design and content. In addition to winning awards the last 12 years, including silver and gold awards, and they have gone on to win Crown awards for the magazine.
"As a graphic Designer for 15 years in Chicago, I bring experience to the design of the magazine. As a teacher, I love working with and getting to know the students on a different level. We enjoy our campfire talks over pizza on our late work night. Ultimately, seeing and smelling the magazine fresh off the press is very rewarding," said Mrs. Potokar, Solstice sponsor.
Over long talks and heavy hours after school, the students judge what pieces will be featured in the publication. They create the layout, design, color and style of the magazine for a meticulous finish that will be ready for pickup from English teachers near the ned of the school year in May.
"I submitted a piece of artwork of a girl to Solstice, and I'm really excited to see what happens next," said Emily Anderson, junior.
Students can submit literary work by emailing [email protected]. Art awards can be submitted by dropping them off to the Art sponsor or bringing it down to Solstice on Wednesdays 3-4 p.m. in lab 15. Digital work can be submitted on a flash drive in its original size, and 300 DPI/resolution is required.
You can contact solstice at [email protected].
Leave a Comment
About the Contributor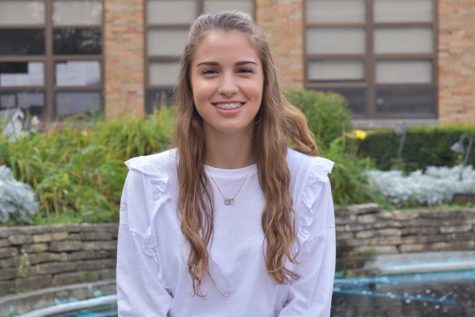 Samia Douedari, Section Editor
Samia Douedari is a senior who enjoys to write whether it's for a class or for fun. Along with being a part of the cross country and track team at Hinsdale...