Jambone music festival honors Mr. Horan
On May 21, a music festival called "Jambone" took place on Grant Street in front of the school to celebrate Mr. Jim Horan, a former Latin teacher who passed away earlier this year. At the event there were bands, food trucks, games, and raffles for prizes.
"It was a charity fundraiser event to help raise funds for a Latin scholarship in Mr. Horan's name and to support Guitar Club activities," said Eric Johnson, senior and Guitar Club president. "Student bands were invited to play at the event, and we have a lineup of five student bands, including my own and a band made up of kids from Guitar Club."
Johnson, along with Ms. Christina Brodell and Mrs. Alisha McCloud of the World Languages Department, planned the entire event. Other students also stepped up to volunteer, collecting donations and running games throughout the evening.
Don't miss it! Jambone going on now. Come on out. Music and food! pic.twitter.com/XALXYwvV28

— Dan Jones (@RedDevilsAD) May 21, 2017
Students started showing up at around 4 p.m., ready to have fun at the music festival. The event ended at 7 p.m., and the students were satisfied with the overall experience. Over 150 people showed up to enjoy the music, the activities, and the two food trucks that had sandwiches, donuts, and coffee. At one point, each food truck line had more than 15 people.
"The entire event was great," said Fareed Khan, freshman. "The food and music made it all a really good time for my friends and [me]."
All the proceeds from the event will fund a Latin Scholarship for a student at Central and Guitar Club activities.
"I think that it's great that the money is going towards a scholarship," said Pulkit Chauhan, junior. "A lot of students can use the money for college because college can be very expensive."
Jambone, Mr. Horan's band, even made an appearance, with Eric Johnson filling in on guitar. They played classic rock and blues, favorites of Mr. Horan, including "Mustang Sally," "Messin' With the Kid," and "I Got You (I Feel Good)."
Mr. Horan had always wanted to have a music festival at Central, so the school hopes that the event can continue in the coming years.
Leave a Comment
About the Contributor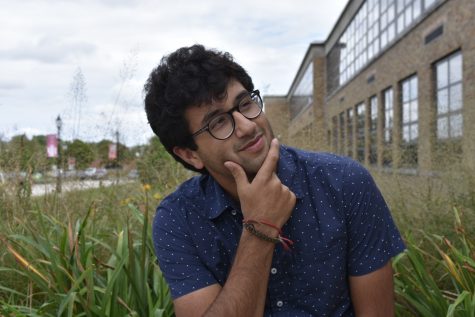 Kunal Jobanputra, News Editor
Senior Kunal Jobanputra exudes a vibrant personality through his ability to grow a beard and his unique dressing style. His class and interest in rap allows...