District adds new emergency alarm system to both schools
During the summer, the district set up BluePoint police alarms on both campuses throughout the hallways and outside of the buildings. The alarms are only to be pulled for armed intruder situations and are meant to create a more efficient response for this type of emergency.
The police alarm works exactly like a fire alarm would. When pulled, there are blue flashing lights inside and outside the building, and a recorded message goes through the PA system informing the school of the lockdown situation.
The police are also immediately notified to send in a response force, including officers from Hinsdale and all other surrounding towns.
Additionally, the staff has key fobs that activate the alarms when pressed. There are 15 of these fobs, and they are intended for when a staff member is too far away to pull a physical police alarm.
One of the differences between the old system and the new system is that there are visuals to alert people of the lockdown.
Mr. Art Holecek, school resource officer, agrees the new system is safer because it alerts everyone in the building of a situation.
"There are areas like the gym and cafeteria where you actually couldn't hear the announcement that there is a lockdown," Mr. Holecek said. "Now there is a visual, a bright strobe light that you will see."
There are currently 100 visual alarms and 30 pull stations located both inside and outside of the school.
"I feel like I am safer due to how much faster this new system works. Having a student call 911 and then explain what is going on would just take too long in an emergency situation," said John Wheeler, senior.
Mrs. Kimm Dever, Director of Deans, also expressed how much more efficient this new system is.
"Right now it would be if you pull the alarm we would go into lockdown. It used to be that if you saw somebody with a weapon, you would then notify someone who would then have to notify either the school resource officer, the Dean's Office, or the principal for us to go on lockdown," Mrs. Dever said.
According to Mr. Holecek, there is a low risk of an armed intruder situation, but the school should be prepared.
"Anything can happen anywhere in America," Mr. Holecek said.
Leave a Comment
About the Writer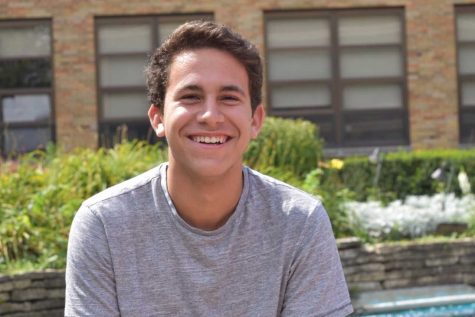 Brandon Belgrad, Writer
Brandon Belgrad, senior, is often spotted running through the streets of Hinsdale. He is a part of the cross-country and track and field teams. Along with...