School year kicks off with motivational speech
On Wednesday, Aug. 16, former University of Nebraska football player and national champion Aaron Davis spoke at a schoolwide assembly on the first day of school for students. With high spirits, Davis explained the importance of choices to introduce the school year's theme: "I Choose to be a Red Devil."

Davis used his own upbringing in a poor community as a basis for the lessons that he would teach, often mentioning different phrases that his father told him throughout his youth. One anecdote was based on the quote, "Show me your friends and I'll show you your future."
"I thought it was a really impressive speech because of the energy that the speaker brought and made everyone pay attention," said Michael Loughlin, senior. "He was really funny and explained how your life choices can have consequences for the rest of your life."
Davis also talked about how he lost his way while at Nebraska. He decided to quit the team and started focusing more on partying, drugs, and alcohol. He lost his scholarship and was about to flunk out of school.
"It was crazy to hear about how this star athlete's life almost fell apart," said Elizabeth Floersch, junior. "You sometimes hear about those stories, but you don't really see them talking to you in person."
Davis spent the latter part of his speech talking about how he succumbed to peer pressure by drinking and smoking towards the end of his high school days. Many students were able to relate to his predicament of dealing with peer pressure and different temptations.
"It was really nice to hear him talk about things that every high school student goes through and see how even a famous person like him experiences the same things that I do," said Trevor Hamilton, senior. "I thought it was a really impressive speech."
You can find more information on Aaron Davis here.
Leave a Comment
About the Contributor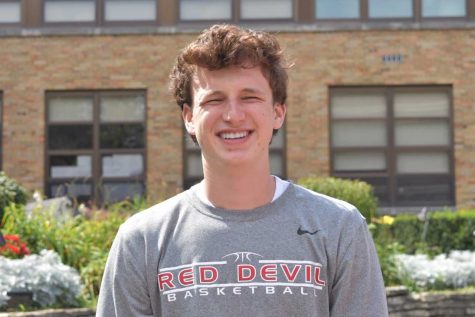 Everett Eck, Section Editor
Everett Eck is a senior who loves the sport of basketball. If he is not playing it, he is probably watching it. When he isn't playing basketball,...