School hosts first time cardiac screening
On Sept. 7, the school will participate for the first time in a cardiac screening program provided by Young Hearts for Life. The event will take place in the field house.
The cardiac screening is being administered through the donations of the just1mike Foundation, Good Samaritan Hospital, and Young Hearts for Life. Michael Brindley, Class of 2018, passed away on June 22, 2016 suddenly from natural causes. Brindley's life will be carried through just1mike, a foundation to raise awareness and fund testing to prevent sudden cardiac arrest.
"We wanted to screen as many people as possible," said Dr. Joseph Marek, the founder of Young Hearts For Life.
Young Hearts for Life will provide a free electrocardiogram (ECG) for every student who registers. The organization has already done more than 170,000 free ECG's.
An ECG is a simple test that can detect certain serious heart conditions. The test is performed by attaching several adhesive electrodes on the patient's body, which then records the electrical impulses of the heart.
"I'm going to the screening so I don't have to worry about having any heart conditions," said Matthew Ritz, junior.
Students that register will take part in the screening during their gym class. Prior to the screening students must fill out necessary paperwork.
There will be between 30 and 40 different ECG stations in the gym. To ensure privacy there will be separate screening rooms for girls and boys with a massage table in each.
"I'm hoping it'll be quick and that I'll get the results back shortly," said Emma Ohey, junior.
Students will relax on the massage tables while the volunteer applies the stickers to areas on the chest, ankles, and wrists. The test will only take a few minutes and is completely painless.
To register for your cardiac screening click here.
1. Go to the Registration and events tab.
2. Click Chicago region high school students.
3. Submit the permission form.
4. Enter your personal information.
5. Choose Hinsdale Central as the school.

The volunteers helping with the event must go through a 90-minute training session the day before. Volunteers will work at least one three hour shift. Click here to sign up for your training session time and choose which shift you prefer on the day of the screening.

Leave a Comment
About the Contributor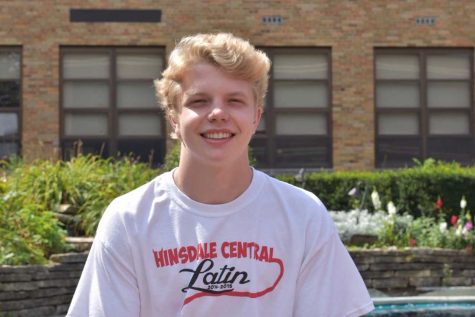 Scott Bitautas, Writer
Scott is a junior writer who loves playing basketball and tends to spend most of his day outdoors. Scott spends his summers swimming in Lake Michigan and...