Homecoming Court elections approach
On Friday, Sept. 8, the 2017 Homecoming Court was announced at the pep rally. Candidates who wished to be on the court nominated themselves two weeks ago and their names were put on a poll for seniors to vote on their choice for the homecoming court.
Winning king candidates included seniors Tomas Baliutavicius, Alex Choi, Marshall Demirjian, Lucian DiPofi, Joel Guerra, Shayan Hussain, Charlie Johns, Joey Malcolm, Kevin Qin, Lonnell Smith Jr., John Wheeler, Grayson Willman, and Colin Yandel.
For the chance to be queen, winning candidates were seniors Caroline Cheng, Colleen Claffy, Olivia Fix, Rama Hamad, Sarah Hughes, Lily Jones, Claire Lozier, Morgan McLaughlin, Maddie McMahon, Juliana Mejia, Kelly Nash, Molly Schwarz, and Sara Villanueva.
Seniors made nominations by filling out an application online where they answered questions about their experience as a Red Devil and wrote about themselves. In previous years, to become a candidate another person had to nominate you in person to one of the Varsity Club sponsors, Mrs. Tylk or Ms. Hiffman.
"In the past, the candidates would basically nominate themselves, this year we just made it easier for them to do that," Ms. Hiffman said. "We let anyone who wants to be a nominee be a nominee; we would have put the whole senior class on if they wanted to be on there."
On Aug. 31 the Varsity Club created a poll open to seniors, giving them until Sept. 6 to choose their 12 candidates for king and queen, but in the end, there were 13 winners.
For the choice of homecoming king and queen, after the skits are performed, Varsity Club will release the ballot on Friday, Sept. 15 for all students to vote.
"I think people vote for court based on if they have a good relationship with the person and how good their skit was," said Andrius Espinoza, senior nominee for homecoming king.
This year there were 86 queen nominees and 29 king nominees. The ratio of girls to boys is also very similar to previous years.
During the short pep rally on Friday, most of the time was spent announcing the court, which included accomplishments of the students.
"A lot of people in the school, especially underclassmen, look up to those people who are getting on this court and so it does show that there is a reward for being involved in things at Hinsdale Central," Ms. Hiffman said.
Once the court is chosen, those on the court have to meet many expectations in regards to participating in events during homecoming week. They are required to participate in homecoming dress days and work on the float for the parade, as well as having to attend the powderpuff game and the movie night.
To get people to vote for them, the nominees for homecoming king and queen pair up with a person of their choosing and make a skit which is performed at the Homecoming pep rally on Sept. 15.
This year new guidelines have been added to the skits, and they cannot include any romantic gestures such as handing someone a rose or carrying them across the "stage," which was traditionally often a part of the skit.
"I am very for tradition and having things sort of stay the same through the years, but it's OK because it would have offended someone or made others feel uncomfortable," said Ellie Margason, senior nominee for homecoming queen.
Homecoming festivities will continue all through next week including dress days, skits, and the parade.
Leave a Comment
About the Contributor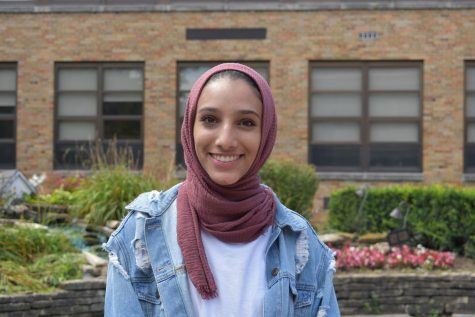 Hajera Naveed, Section Editor
Hajera Naveed is a Senior Writer and Section Editor for Devils' Advocate. Her hobbies include writing, volunteering, painting, and running. When she isn't...