Powderpuff raises money for cancer treatment
On Sept. 10, the annual powderpuff football game took place on Dickinson field at 5:30 p.m. The juniors attempted to beat the seniors for the first time, but the seniors won 28-6.
Mrs. Kelly Watson organized the event like in recent years. Members of the varsity football team also helped by coaching the two teams, with the seniors in black and the juniors in gray.
"I'm expecting our juniors to go out and keep pushing down field to beat the seniors," said Zach Brewer, junior coach, before the big game.
The captain of the junior squad was Ellie Geier, and for the seniors, Maddy Swade. The top players for the junior team included Samantha Brescia and Annie Huetteman. For the seniors, Caroline Renehan and Jillian Wallace also helped drive their team to victory.
Both teams had two unofficial practices prior to the game on Sunday. The practices allowed the coaches to determine who should play at what position and gave players an idea of what to expect on game day.
"We had a practice last Sunday from 5 p.m. to 6:30 p.m.," said Chloe Johanson, junior wide receiver. "I'm really looking forward to the game and getting the t-shirt."
The funds collected from the game will go towards pediatric cancer treatment for the Amazing Grace Foundation. Last year's powderpuff event raised more than $4,000 from the spectators and players.
The field was shortened down to 50 yards, and the players pulled one another's flags to down each other. Coaches organized the two teams into several lines so it was easier for the players to substitute in and out.
https://www.instagram.com/p/BY4lfP7ALxU/?taken-by=jilliannwallace
"I'm super excited for the game because last year I had a touchdown, and it was so much fun playing with all my friends," Wallace said.
This year the competition remained fierce, but the seniors pulled off the win in accordance with tradition. The school is hoping that this year's game yielded as many donations as last year.
Leave a Comment
About the Contributor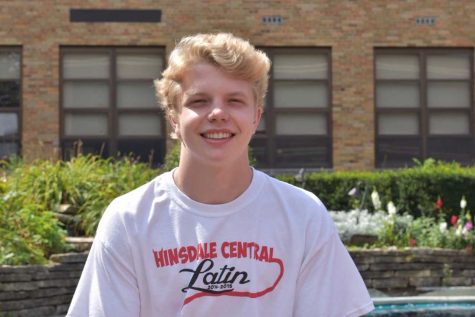 Scott Bitautas, Writer
Scott is a junior writer who loves playing basketball and tends to spend most of his day outdoors. Scott spends his summers swimming in Lake Michigan and...