Key Club raises money for Harvey
On Monday, Sept. 11 and Tuesday, Sept. 12, Key Club members put together a bake sale to raise money for the victims of Hurricane Harvey. Key Club sponsored the event, but the idea and execution was done by Samantha Lee, a sophomore member of the club.
Along with a group of her friends, Lee prepared homemade treats to sell on Monday and Tuesday morning. The bake sale had a variety of desserts on sale including fudge, cookies, cake pops, and cupcakes all for a dollar each.
According to CNN, Hurricane Harvey has caused up to $180 billion worth of damage and killed at least 70 people. The girls wished to raise awareness of the damage the hurricane caused and do whatever they could to help.
"There are many natural disasters that happen which people can't control, and something like this has never happened in Texas," said Sarah Lian, sophomore member of Key Club. "It's a lot for them to deal with."
The money made from the bake sale is going directly towards relief for the hurricane through the JJ Watt Foundation, which has already collected more than $30 million in donations. Lee chose to donate to this foundation because she felt they would be the most trustworthy and use all of the money towards relief rather than just a portion.
"I was impressed by our club members' efforts to run this bake sale and I thought their idea to contribute to the relief efforts in Texas was important to support," said Ms. Sara Pendergrass, one of Key Club's sponsors. "Also, the mission of Key Club is to help others, and this was a great opportunity to do that."
Hurricane relief is especially important to Lee due to personal connections down in Texas.
"One of my very close friends lives in Texas. Once the hurricane hit, he sent me a video of his house flooding and I immediately began to worry," Lee said. "His family will now have to rebuild their entire first floor and parts of their second floor as well. Both of their cars are broken and can no longer be used because of how long they were under water."
Lee raised about $175 with this bake sale and hopes to hold more in-school fundraisers in the future to help with this cause and others plaguing the world.
"Even if we didn't make a lot of money, I'm glad we were able to do something to help the victims of Hurricane Harvey," said Kelly Ma, sophomore member of Key Club.
The next project of this club may be to raise money for the new hurricane that has hit Florida this past week, Hurricane Irma. Irma was a category five hurricane that caused heavy damage to the coast of Florida and other states in its path, so others like Lee are hoping to help with recovery efforts.
Leave a Comment
About the Contributor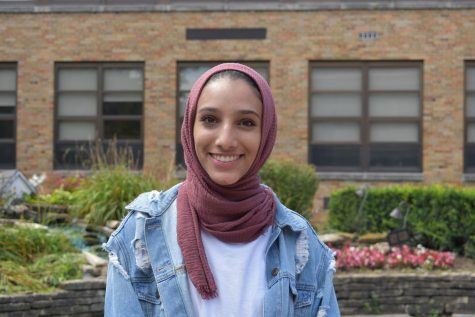 Hajera Naveed, Section Editor
Hajera Naveed is a Senior Writer and Section Editor for Devils' Advocate. Her hobbies include writing, volunteering, painting, and running. When she isn't...