Boys soccer kicks it for charity
On Sunday, Sept. 24, the boys soccer team held their annual KICK fundraiser for the eighth year in a row. This year, funds from the tournament, that mixes both soccer and tennis, went towards Hurricane Harvey relief.
The event took place at the tennis courts from noon until 3 p.m. Around 15 teams of three participated in this game, which is tennis but instead of rackets and tennis balls, the players use their feet and soccer balls. The ball was only allowed to bounce once while on each side, and points were won if there was a double bounce or if the ball was hit out of bounds.
"It was fun competing against my soccer teammates. I normally don't get to play against them so it is always great to have different competition," said Ben Cosentino, sophomore.
Each game was played to 11 points. There were prizes for the overall winners, and the winners of the separate consolation bracket. Along with the tournament, there were other activities like frisbee and spikeball that students were able to play.
2017 | KICK ⚽️ Event

Another @hcsoccercentral victory – this time helping others.@RedDevilsAD @ThisIsHCHS @hcdevilsadvo #SoccerCentral pic.twitter.com/p6cGSF9Zeh

— HC Boys Soccer (@hcsoccercentral) September 24, 2017
"It felt great to play such a fun sport with my friends knowing how many people it helped by my donations," said Callum Burke, junior. "I am happy that I was able to be involved with one of the many opportunities that the school provides to give back to the community."
The fundraiser is always run through the foundation Schools Count, which brings aid to schools that are affected by natural or man-made disasters. In the past, they would use this opportunity to help supply Chicago Public Schools, but this year it will be used for Hurricane Harvey relief.
"We so far have raised $7,030, and that is not including the late entries. By the time we get all the collections in, I believe that the total will be around $8,500," said Coach Dick Flesher, KICK organizer and Schools Count founder.
The donations from KICK will be delivered to Texas and distributed to different schools by a former student and Coach Flesher.
Leave a Comment
About the Contributor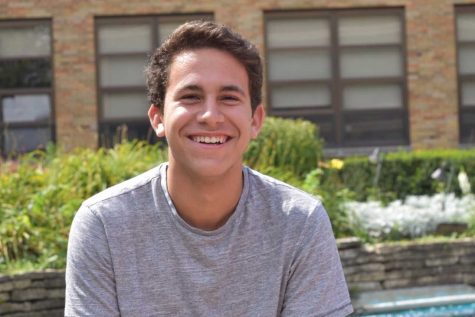 Brandon Belgrad, Writer
Brandon Belgrad, senior, is often spotted running through the streets of Hinsdale. He is a part of the cross-country and track and field teams. Along with...