Let's Help Out spreads hope to the homeless
In the relatively affluent community of Hinsdale, students often do not come into close contact with poverty. The majority of the student body has almost never experienced burning hunger and concern over where their next meal will come from. Yet, just a mere 20 miles away, more than 80,000 Chicagoans experience these trials and hardships that result from being homeless. However, one group of students aims to alleviate this.
On Saturday, Oct. 14, Let's Help Out Club, or more commonly referred to as LHO, will be gathering to pack and deliver lunches, socks, and hopeful messages to help the homeless of Chicago. The event is fittingly called "Brown Bags Of Hope," and it focuses on providing the homeless of Chicago with food, clothes, and kindness that are often needed for the upcoming cooler months.
The day of the trip students who signed up for the event will gather at the school at 8:00 a.m. and prepare lunches consisting of bagels with lunchmeat and cheese, chips, a cookie, some sort of fruit, and a water bottle. Socks and gloves that students have gathered will also be packed in the brown bagged lunches, which students draw and write hopeful messages on.
Around 9:30 a.m., the club will board a train to Chicago to pass out their bags of hope to the homeless, have lunch in the city, and return home at 4:00 p.m. All supplies and lunches they have left will be donated to a local food pantry.
"[Handing out the lunches] is my favorite moment because it really makes us feel that we are making a difference in [homeless peoples'] lives even if it's just one lunch and one pair gloves, you know they'll remember it for a while," said Francie McCarthy, sophomore LHO board member.
Brown Bags of Hope is a semi-annual event occurring in the fall and spring, and has been one of LHO's most popular and exclusive events for the past five years. More than 70 students attended the interest meeting for Brown Bags of Hope, yet only 45 students can be brought on the trip.
"During my first [Brown Bags of Hope] event as a sophomore, I distinctly remember the first time I handed out a bag lunch to a homeless person. His eyes lit up when I asked him if he would like some lunch, and I'll never forgot how thankful he seemed afterwards," said Cameron Garber, junior LHO board member.
LHO also participates in and hosts many other events throughout the year, such as working at the concession stand for football games, organizing help at places such as the Rotary House, creating Sunshine bags for homebound students, Bell Ringing for the Salvation Army, making goodie bags with inspiring messages on them and handing them out to students, and many more, all focused on helping and supporting the community as best they can.
"LHO is a club that has a singular focus on coming together as a group to support the people around us. Students should join if they like to help people and meet great people along the way," Garber said.
The club is mainly run by the students, with many of the board members in charge of gathering donations and planning the events.
"A lot of the students do everything, they're pretty independent and they are the ones who get donations. The students do the majority of the work which makes [Brown Bags of Hope] really awesome to see students taking charge," said Ms. Maura Langevin, one of the club sponsors.
Let's Help Out meets the last Wednesday of every month at 7:30 a.m. in room 259.
Leave a Comment
About the Contributor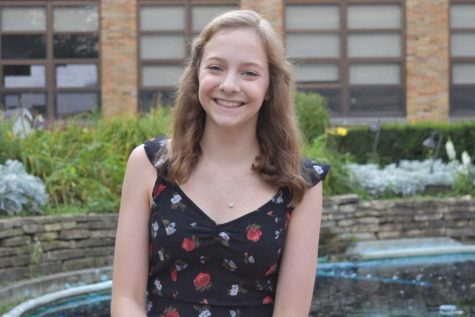 Abby Stockmal, Editor-in-Chief
Abby Stockmal is a senior who, when not scrambling to finish an essay she that she procrastinated, can be found watching reruns of "Friends", making an...